Kindness Will Save the World: Stories of Compassion and Connection (Hardcover)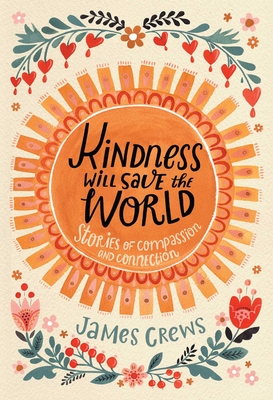 $22.50

Should Be On Our Shelves Now
Description
---
With essays, reflection prompts, and tips from award-winning poet and mindfulness teacher James Crews, learn how to integrate the life-changing practice of kindness into your own routine.

Kindness Will Save the World inspires reflection on one's own life, how to find the positive in little moments, and how to radiate kindness to those around you. Read one of the 100 uplifting essays each morning or night and gain inspiration for the new day ahead.

With journaling prompts throughout and highlighted Kindness Practices, you are provided the tools to integrate the life-changing practice of kindness into your own life.

BITE-SIZE WISDOM: At one to three pages in length each, the stories are heartfelt and thought-provoking, yet brief enough to quickly read during breakfast, on the train, or before bed

100 INSIGHTFUL ESSAYS: In Kindness Will Save the World, you'll find dozens of inspirational stories highlighting compassion, all captured with a poet's grace

LESSONS FOR LIFE: With writing prompts and simple practices to integrate daily, Kindness Will Save the World will inspire you to lead a kindness-centered lifestyle, enriching your own life and the lives of those around you

INSPIRATIONAL GIFT: With a beautiful cover and bite-sized wisdom stories, Kindness Will Save the World is an inspirational gift for anyone in search of hope and light in the world, from new graduates to new parents

AWARD-WINNING AUTHOR: James Crews is an award-winning poet and writer. His work has been awarded the Prairie Schooner Prize and Cowles Prize. He has also been featured in The New York Times Magazine, The New Republic, Ploughshares, and The Sun Magazine

KINDNESS IS SELF-CARE: Kindness has been linked to improved mood, release of feel-good hormones, and better relationships
About the Author
---
James Crews is the editor of several bestselling books, including The Path to Kindness and How to Love the World, which has over 100,000 copies in print. He has been featured in The Washington Post, The Boston Globe, The New York Times Magazine, The New Republic, The Christian Science Monitor, and on NPR's Morning Edition. The author of four prize-winning books of poetry, James also speaks and leads workshops on kindness, mindfulness, and writing for self-compassion. He lives with his husband on forty rocky acres in the woods of Southern Vermont. For more info, visit: jamescrews.net


Dinara Mirtalipova is a self taught illustrator/designer. Born and raised in Tashkent, Uzbekistan, she eventually landed in snowy Ohio. Dinara studied Computer Science at the Tashkent State University of Economics, however her true passion was always patterns and illustration. Raised in Soviet Uzbek culture, Dinara inhabited Uzbek/Russian folklore that still influences her work.

For more work please visit www.mirdinara.com or follow on Instagram @mirdinara for more behind scene process.