What Would Jesus Eat Cookbook (Abridged / MP3 CD)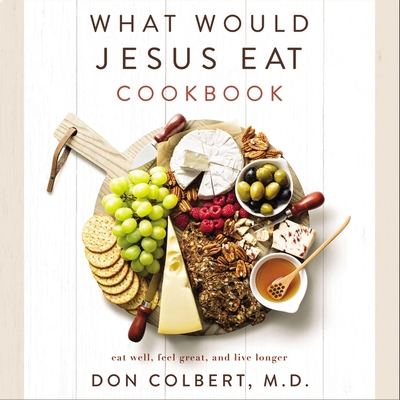 $41.99
Email or call for price
Description
---
Most Christians truly want to understand what Jesus would do, and we want to follow His example in any given situation: we want to love and honor our heavenly Father as Jesus did, we want to obey the Ten Commandments as He did, and we want to learn how to love other people as He did. But do we want to eat as Jesus ate?
Jesus cared about the health of people. After all, many of his healing miracles are a testimony to that fact. In the What Would Jesus Eat Cookbook, Dr. Colbert combines excerpts from his bestseller, What Would Jesus Eat? with new research and data that will help you find balance in body, mind, and spirit.
Join Dr. Colbert, a board-certified family practice doctor for more than 25 years and a board-certified practitioner through the American Academy of Anti-Aging Medicine as he shares:
90+ simple yet healthy recipes that anyone can makeKey takeaways at the end of each chapter that provide answers to frequently asked questionsInformation about anxiety, autoimmune disorders, cancer, diabetes, fatigue, food allergies, inflammation, insomnia, Lyme disease, memory loss, migraines, thyroid disease, and weight lossHelpful advice to help you choose organic options and eat cleanTips on freezing foods, baking pan suggestions based on cups/servings, and easy ingredient substitution suggestions
If you want to live a healthier lifestyle that aligns with your faith, let the What Would Jesus Eat Cookbook be your guide along the way. With life-changing information designed to improve every aspect of your well-being, this isn't just a cookbook--it's a resource you'll turn to time and time again.