The Guide to the Future of Medicine: Technology AND The Human Touch (Paperback)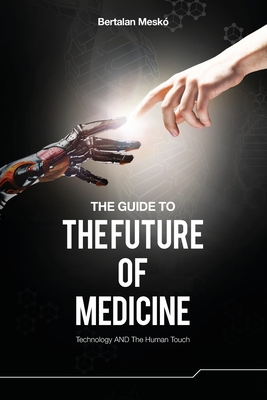 $18.90
Usually Ships in 3-5 Days
Description
---
A few short years ago, it would have been hard to imagine that exoskeletons could enable paralyzed people to walk again; that billions of people would rely on social media for information; and that the supercomputer Watson would be a key player in medical decision-making. Perhaps more than in any other field, technology has transformed medicine and healthcare in ways that a mere decade ago would have sounded like pure science fiction.
From his unique vantage as a trained physician, researcher, and medical futurist, Dr. Bertalan Mesko examines these developments and the many more down the pipeline. His aim is to assess how the hand of technology can continue to provide the dose of humanity that is crucial to effective healthcare. The Guide to the Future of Medicine: Technology and the Human Touch is his incisive, illuminating roundup of the technologies and trends that will shape the future of medicine.
Patients, medical professionals, and any healthcare stakeholder will find an eye opening, reassuring roadmap to tomorrow's potential in this accessible and fact-based book. By preparing for the inevitable waves of change, you can make informed decisions about how technology will shape your own well-being.
About the Author
---
Dr. Bertalan Mesko, PhD, is a medical futurist who has given more than five hundred presentations to institutions including Yale, Stanford, and Harvard universities; the center of the World Health Organization; and the Singularity University. He is the founder of Medicalfuturist.com, a website that provides daily news about the future of medicine. He is also the managing director and founder of Webicina.com, the first service to curate medical and health-related social media resources for patients and medical professionals. Dr. Mesko is also the author of the Social Media in Clinical Practice handbook; the founder of the award-winning medical blog Scienceroll.com; and the founder and lecturer of the Social Media in Medicine online and offline university course. His work has been recognized by CNN.com, the World Health Organization, and the New York Times, among others. The author received an MD and PhD from the University of Debrecen, Medical School and Health Science Center.