La historia de Rusia / The Story of Russia (Hardcover)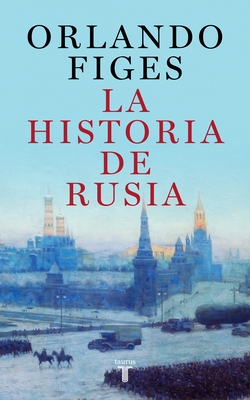 $27.95

Usually Ships in 3-5 Days
Description
---
MEJOR LIBRO DEL AÑO 2022 EN Sunday Times * Irish Times * Spectator * Financial Times * Telegraph * Aspects of History

Uno de los libros más esperados según Publishers Weekly and Kirkus Reviews

«Este es el libro de historia que necesitan para entender la Rusia moderna y sus guerras con Ucrania, con sus demás vecinos, con Estados Unidos y con Occidente». –ANNE APPLEBAUM

«Si de verdad quieren entender la Rusia de Putin, anclada en su pasado de mitos, lean este excelente libro». –ANTONY BEEVOR
 
Orlando Figes, el gran especialista en Rusia, ofrece una nueva historia que da sentido al presente.
 
La historia de Rusia se ha visto marcada como pocas por el empleo de mitos con fines políticos. Ningún otro país ha reinventado su propio relato con tanta frecuencia, en un esfuerzo perpetuo por adaptarse a los cambios de las ideologías dominantes, y esa tendencia es precisamente un aspecto vital de su cultura. Para comprender lo que depara el futuro del país -y lo que significa el régimen de Putin para Rusia y para el resto del mundo-, debemos desentrañar las ideas y los significados de esa historia.
 
Desde sus inicios agrarios en el primer milenio hasta la era de Putin, pasando por los periodos de monarquía, totalitarismo y Perestroika, el brillante historiador Orlando Figes examina las claves que han marcado el destino del país, entre ellas la necesidad de un régimen autocrático para gobernar tan vasto territorio; la veneración del «Santo Zar» y el culto al líder; la creencia en un espíritu colectivista esencialmente ruso; y su oscilación entre el carácter europeo y euroasiático. Todos estos ingredientes permiten entender la Rusia moderna. En un momento en el que el país se aleja de Europa, esta historia de su pasado, a cargo de toda una autoridad en la materia y maravillosamente narrada, bien podría dilucidar su futuro.
 
ENGLISH DESCRIPTION

"This is the essential backstory, the history book that you need if you want to understand modern Russia and its wars with Ukraine, with its neighbors, with America, and with the West." ―Anne Applebaum, author of Twilight of Democracy and Red Famine

A 2022 BOOK OF THE YEAR FOR: Sunday Times * Irish Times * Spectator * Financial Times * Telegraph * Aspects of History

Named a Most Anticipated Book of the Year by Publishers Weekly and Kirkus Reviews

From "the great storyteller of Russian history" (Financial Times), a brilliant account of the national mythologies and imperial ideologies that have shaped Russia's past and politics―essential reading for understanding the country today
 
The Story of Russia is a fresh approach to the thousand years of Russia's history, concerned as much with the ideas that have shaped how Russians think about their past as it is with the events and personalities comprising it. No other country has reimagined its own story so often, in a perpetual effort to stay in step with the shifts of ruling ideologies.
 
From the founding of Kievan Rus in the first millennium to Putin's war against Ukraine, Orlando Figes explores the ideas that have guided Russia's actions throughout its long and troubled existence. Whether he's describing the crowning of Ivan the Terrible in a candlelit cathedral or the dramatic upheaval of the peasant revolution, he reveals the impulses, often unappreciated or misunderstood by foreigners, that have driven Russian history: the medieval myth of Mother Russia's holy mission to the world; the imperial tendency toward autocratic rule; the popular belief in a paternal tsar dispensing truth and justice; the cult of sacrifice rooted in the idea of the "Russian soul"; and always, the nationalist myth of Russia's unjust treatment by the West.
 
How the Russians came to tell their story and to revise it so often as they went along is not only a vital aspect of their history; it is also our best means of understanding how the country thinks and acts today. Based on a lifetime of scholarship and enthrallingly written, The Story of Russia is quintessential Figes: sweeping, revelatory, and masterful.
About the Author
---
Orlando Figes (Londres, 1959) es un historiador británico, nacionalizado como ciudadano alemán. Es profesor de Historia en el Birkbeck College de la Universidad de Londres. Es autor de varios best-sellers centrados en la historia de Rusia, traducidos a más de quince lenguas, así como de Los Europeos (Taurus, 2020), y ha recibido numerosos premios. Es colaborador habitual de The New York Review of Books, y miembro de la Royal Society of Literature desde 2003.