Chronicles From The Future: The amazing story of Paul Amadeus Dienach (Paperback)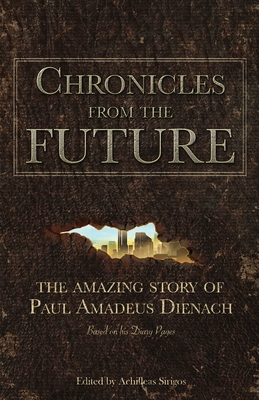 $19.40

Usually Ships in 3-5 Days
Description
---
In 1921, Paul Amadeus Dienach, a Swiss-Austrian teacher with fragile health, falls into a one-year-long coma. During this time, his consciousness slides into the future and enters the body of another man in 3906 A.D.
When Dienach awakens from his coma, he finds himself back in 1922. Knowing that he doesn't have much time left, he writes a diary, recording whatever he could remember from his amazing experience: the mankind's history in the forthcoming centuries, from the nightmare of overpopulation and World Wars up until the world-changing globalisation, the radical new administration system, the colony on Mars and the next human evolutionary stage. Without any close friends and relatives to entrust, he doesn't say a word to anyone out of fear of being branded a lunatic.
Before he dies, he hands his diary to his favourite student, George Papachatzis, later prominent Professor of Law and Rector of Panteion University of Greece. The diary circulates as hidden knowledge amongst high ranking masons in the lodges of Athens. In 1972, professor Papachatzis, despite an intense dispute, decides to publish Dienach's diary in Greek.
Paul Dienach was not an author, poet, or professional writer. Rather, he was an ordinary man who kept a journal, never with the expectation that it would be published.
This unique and controversial book, a universal legacy, is now carefully edited, translated and available to everyone.
This is the history of our future We deliver it to you.
About the Author
---
Achilleas Sirigos was born in Athens on 24th May 1973. He undertook a Law degree at Athens University and fulfilled his childhood dream by becoming a sportscaster at SKAI TV at the age of 21. Since 1994 he has written more than 1.000 articles in the biggest Greek magazines and newspapers (including interviews with Paolo Coehlo, Michael Jordan, Luc Besson, Professor Nanopoulos and many others). In addition he has edited 2 books, hosted TV and radio shows and worked in more than 50 prime time TV shows as an executive producer, project manager or editor in chief, aired by the biggest TV stations in Greece (MEGA, ANT1, STAR, SKAI, ALPHA). He has also worked with all the leading Production Companies in Greece (ENA Productions, ANOSI, Studio Ata, On Productions, Plus) as project manager and creator of TV formats. After working for more than two years on the scripts of Paul Amadeus Dienach, he decided to publish worldwide the new edition of Dienach's original Diary Pages, which was formerly available only in Greece. This legendary book, which was originally given to him by his brother, is now the centerfold of his life and he is determined to share this world heritage with as many readers as possible.