Blaustein's Pathology of the Female Genital Tract (Hardcover)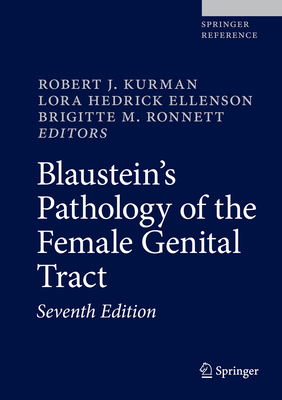 $412.85
Usually Ships in 3-5 Days
Description
---
Since the publication of the 1/e in 1977, Blaustein's Pathology of the Female Genital Tract has consolidated its position as the leading textbook of gynecological pathology. An essential reference for all pathologists and residents, this thoroughly updated Seventh Edition includes more than 1400 illustrations in color, informative tables and 22 revised chapters written by internationally recognized experts.
Discussion of each specific entity is organized to include general information, etiology, and epidemiology followed by clinical features, pathologic findings, differential diagnosis, clinical behavior, and treatment. This clear organization is applied throughout the book and allows the reader to quickly access key information in every chapter.
Blaustein's Pathology of the Female Genital Tract remains the gold-standard reference for practicing pathologists and trainees, as well as for obstetric/gynecology practitioners and residents.
Please find the index under "Back Matter" freely available on SpringerLink https: //link.springer.com/referencework/10.1007%2F978-3-319-46334-6.
About the Author
---
Dr. Robert J. Kurman, M.D. is the Emeritus Richard W. TeLinde Distinguished Professor of Gynecologic Pathology at the Johns Hopkins University School of Medicine and former Director of the Division of Gynecologic Pathology at the Johns Hopkins Hospital where his career was devoted to diagnosis, research, and teaching in the field of gynecologic pathology. His research activities began in the early 1970s with studies of germ cell tumors of the ovary and testis and gestational trophoblastic disease at which time he pioneered the application of immunohistochemistry (IHC) on formalin-fixed, paraffin-embedded tissue. These studies were among the first describing how IHC could be applied to surgical pathology. During this time, he also undertook studies on the relationship of endometrial hyperplasia to carcinoma which led to the development of a classification system of endometrial hyperplasia that was later adopted by theWorld Health Organization. In the late 1970s and 1980s, his work on establishing the link between HPV and cervical cancer played a role in the application of molecular testing for HPV as a screening tool. This also was instrumental in the development of "The Bethesda System (TBS) for Reporting Cervical/Vaginal Cytologic Diagnoses" that replaced the previous Papanicolaou classification system and is now the standard cytology classification system in the USA and abroad. He has also been a Consultant for Merck in their clinical HPV vaccine trials. In the last 15 years, he has focused on elucidating the pathogenesis of epithelial ovarian cancer. By collaborating not only with other pathologists but also with molecular biologists and epidemiologists, he has demonstrated the value of a multimodal approach to ovarian cancer research. His vision has led to the proposal of a new disease model, which synthesizes clinical observations and pathobiological mechanisms and validates conceptual hypotheses with molecular data, thereby bringing new insights to the field. For example, based on morphologic and molecular genetic studies, a dualistic model of ovarian carcinogenesis was developed, which has now become widely accepted in the field. In addition, the studies implicating a precursor lesion in the fallopian tube as the origin of many so-called ovarian carcinomas have dramatically changed our thinking on this subject, with important implications for ovarian cancer screening and prevention. His research has resulted in the publication of nearly 300 original peer-reviewed papers and over 150 review articles and book chapters. Dr. Kurman's influence extends well beyond these research efforts. He has recruited and mentored pathologists and researchers who have become distinguished gynecologic pathologists. Pathologists know him as an author and editor through his significant educational publications, including Blaustein's Pathology of the Female Genital Tract (third, fourth, fifth, and sixth editions), Diagnosis of Endometrial Biopsies and Curettings: A Practical Approach (two editions), the AFIP Fascicles on Tumors of the Cervix, Vagina, and Vulva (third and fourth series) and Tumors of the Uterine Corpus and Gestational Trophoblastic Disease (third series), and the 2014 World Health Organization Classification of Tumours of the Female Reproductive Organs. He is sought after as a lecturer worldwide and has contributed to the advancement of the field through his leadership in professional societies, including being President of the International Society of Gynecologic Pathologists, participation in international committees, and membership on editorial boards of numerous journals. In recognition of his scholarship and leadership activities, he was elected as an Honorary Fellow of the Royal College of Pathologists and the Austrian Society of Pathologists.Lora Hedrick Ellenson, M.D. is an Attending Pathologist and Director of Gynecologic Pathology in the Department of Pathology at Memorial Sloan Kettering Cancer Center in New York City. Her undergraduate work was done at University of California, Berkeley, followed by medical school at Stanford University School of Medicine and residency training at The Johns Hopkins Medical Institutions. Upon completing the Anatomic Pathology program, she joined the laboratory of Drs. Bert Vogelstein and Ken Kinzler as a post-doctoral fellow. She simultaneously trained as a Gynecological Pathologist with Dr. Robert Kurman. Following her initial work studying the molecular biology of colon cancer, at the request of Dr. Kurman, she joined the Department of Pathology in the Division of Gynecologic Pathology where she established an independent research program to study the molecular genetics of endometrial carcinoma. Dr. Ellenson's laboratory was one of the first to document the high frequency of TP53 mutations in uterine serous carcinoma and microsatellite instability and PTEN mutations in sporadic endometrioid carcinoma. In 1988, she moved to Weill Cornell Medical College to oversee the division of Gynecologic Pathology, where she remained for 21 years. Reflecting her expansive interests Dr. Ellenson has, throughout her career, maintained an NIH funded laboratory and simultaneously practiced diagnostic gynecologic pathology. Since 2001, she has been an Associate Editor for the American Journal of Pathology. She has also been on the Editorial Committee for Annual Reviews of Pathology: Mechanisms of Disease for over 10 years. Dr. Ellenson has contributed chapters on the Female Genital Tract for the last 3 editions of Robbins and Cotran Pathologic Basis of Disease and more recently for Basic Pathology. In 2015 she became Editor in Chief of the International Journal of Gynecological Pathology. She is also Co-Editor of the 6th and 7th Editions of Blaustein's Pathology of the Female Genital Tract along with her long-time colleagues Dr. Robert Kurman and Brigitte Ronnett. Brigitte M. Ronnett, M.D. is Professor of Pathology and Gynecology and Obstetrics at the Johns Hopkins Medical Institutions. She graduated from Northwestern University and received her medical degree from the University of Chicago Pritzker School of Medicine. She completed residency training in pathology at the Johns Hopkins Hospital, a surgical pathology fellowship at Memorial Sloan-Kettering Cancer Center, and both surgical pathology and gynecologic pathology fellowships at the Johns Hopkins Hospital. She has been a member of the Division of Gynecologic Pathology at Johns Hopkins since 1995. Her clinical efforts are focused on a large gynecologic pathology consultation practice. Her research efforts have focused on ovarian mucinous tumors, uterine cervical and endometrial pathology, and hydatidiform moles.