The Devil's Making: A Mystery: From Sea to Sea Volume 1: Vancouver Island, 1869 (Paperback)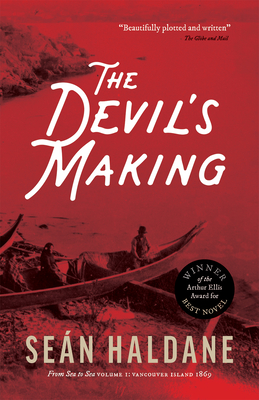 Description
---
Winner of the Arthur Ellis Award for Best Novel, Crime Writers of Canada, The Devil's Making portrays a frontier where cultures clash on the eve of a new country's birth.
Victoria, 1869. In the ramshackle capital of what will soon become British Columbia, a few thousand settlers aspire to the values of the Victorian age on an island still dominated by a powerful mix of Indigenous people. The cautious peace is rocked when a body is discovered: Dr. McCrory, an American "doctor" who specializes in phrenology, Mesmerism, and sexual-mystical magnetation.
Chad Hobbes, recently arrived from England, is the policeman who must solve the crime. At first it seems the killer is a Tsimshian medicine man who has already been arrested. It would be easy for Hobbes to let him swing for the murder, but his own interest in a Tsimshian woman drives him to find out more. He soon discovers that everyone who knew McCrory has something to hide.