Kidney Disease Diet Cookbook: Manage Your Diagnosis and Learn How to Fight Kidney Disease and Avoid Dialysis with 200+ Healthy, Easy, and Delicious (Large Print / Paperback)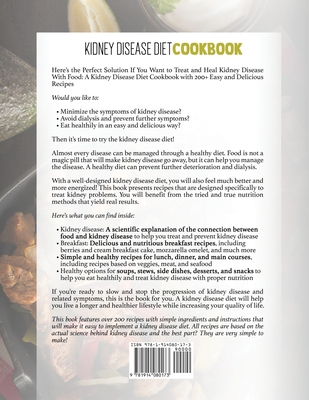 $25.90
Usually Ships in 3-5 Days
Description
---
Here's the Perfect Solution If You Want to Treat and Heal Kidney Disease With Food: A Kidney Disease Diet Cookbook with 200+ Easy and Delicious Recipes
Would you like to:
● Minimize the symptoms of kidney disease?
● Avoid dialysis and prevent further symptoms?
● Eat healthily in an easy and delicious way?
Then it's time to try the kidney disease diet
Almost every disease can be managed through a healthy diet. Food is not a magic pill that will make kidney disease go away, but it can help you manage the disease. A healthy diet can prevent further deterioration and dialysis.
With a well-designed kidney disease diet, you will also feel much better and more energized This book presents recipes that are designed specifically to treat kidney problems. You will benefit from the tried and true nutrition methods that yield real results.
Here's what you can find inside:
● Kidney disease: A scientific explanation of the connection between food and kidney disease to help you treat and prevent kidney disease
● Breakfast: Delicious and nutritious breakfast recipes, including berries and cream breakfast cake, mozzarella omelet, and much more
● Simple and healthy recipes for lunch, dinner, and main courses, including recipes based on veggies, meat, and seafood
● Healthy options for soups, stews, side dishes, desserts, and snacks to help you eat healthily and treat kidney disease with proper nutrition
If you're ready to slow and stop the progression of kidney disease and related symptoms, this is the book for you. A kidney disease diet will help you live a longer and healthier lifestyle while increasing your quality of life.
This book features over 200 recipes with simple ingredients and instructions that will make it easy to implement a kidney disease diet. All recipes are based on the actual science behind kidney disease and the best part? They are very simple to make
Scroll Up, Click on "Buy Now with 1-Click" and Get Your Copy Today