The Great Wall of China 221 BC–AD 1644 (Fortress) (Paperback)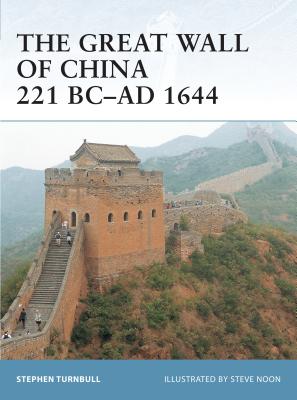 $20.00
Email or call for price
Other Books in Series
This is book number 57 in the Fortress series.
Description
---
The Great Wall of China is the most extensive and famous example of fortification in the world. Charting its development from construction in the 7th century BC through to the present day, this account reveals the true history of the wall, and explores the myths that surround it.

Stretching over 4,000 miles, the Great Wall began as a collection of defensive walls built by the northern vassal states under the Chou dynasty. With the unification of China in 221 BC the walls were interlinked and extended to fight off the invaders from the North. The wall as it is seen today is almost entirely the result of major renovations that started with the founding of the Ming Dynasty in 1368 AD and took 200 years to complete.

Included are details of what it was like to live within the wall, the ideas behind the defensive systems, how it was garrisoned and patrolled, and a discussion of how effective it was against attack. Through extensive examination of both ancient and modern sources, color maps, artwork and photographs, this book illustrates why the wall is one of the great wonders of the world.
About the Author
---
Stephen Turnbull is widely recognised as the world's leading English language authority on the samurai of Japan. He took his first degree at Cambridge and has two MAs (in Theology and Military History) and a PhD from Leeds University. He is now retired and pursues an active literary career, having now published 85 books. His expertise has helped with numerous projects including films, television and the award-winning strategy game Shogun Total War.

Steve Noon was born in Kent, UK, and attended art college in Cornwall. He's had a life-long passion for illustration, and since 1985 has worked as a professional artist. He has provided award-winning illustrations for the publishers Dorling Kindersley, where his interest in historical illustration began. Steve has illustrated over 70 books for Osprey.
Praise For…
---
"This is a fascinating book, well written and well illustrated... It is highly recommended to anyone interested in the history of fortifications or non-Western warfare." —Bolling Smith, The Coast Defense Journal

"The author, Stephen Turnbull, does a superb job of taking a huge amount of information and compressing it into the basics... This is all further enhanced by excellent photographs of the wall as it is today and the stunning illustrations and maps provided by Steve Noon. Together it provides an outstanding primer on this most imposing construct. I learned a great deal from this book and I know you will too. Like all Osprey titles, it is one you can buy with confidence." —Scott Van Aken, modelingmadness.com

"...Turnbull's work is surprisingly detailed and informative... This book will prove an excellent resource for a prospective visitor or teacher in the classroom." —Timothy Baghurst, The Traveler

"...does a great job in describing the world's longest fortifiged wall." —J. E. Kaufmann, Site O