Empire of Capital (Paperback)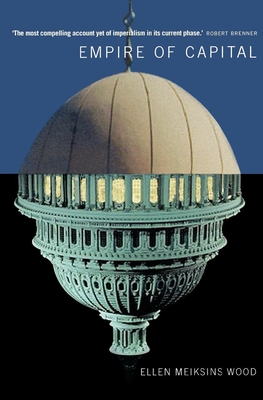 Description
---
Capitalism makes possible a new form of domination by purely economic means, argues Ellen Meiksins Wood. So, surely, even the most seasoned White House hawk would prefer to exercise global hegemony in this way, without costly colonial entanglements. Yet, as Wood powerfully demonstrates, the economic empire of capital has also created a new unlimited militarism.

 By contrasting the new imperialism to historical forms such as the Roman and Spanish empire, and by tracing the development of capitalist imperialism back to the English domination of Ireland and on the British Empire in America and India, Wood shows how today's capitalist empire, a global economy administered by local states, has come tom spawn a new military doctrine of war without end, in purpose or time.
About the Author
---
Ellen Meiksins Wood, for many years Professor of Political Science at York University, Toronto, is the author of many books, including Democracy Against Capitalism and, with Verso, The Pristine Culture of Capitalism, The Origin of Capitalism, Peasant-Citizen and Slave, Citizens to Lords, Empire of Capital and Liberty and Property.
Praise For…
---
"A splendid book."—Eric Hobsbawm

"A thought-provoking genealogy of empires throughout history."—Publishers Weekly

"The best articulation of the secular Left's critique of global capital."—Tikkun

"... a timely book ... a powerful antidote to one of the afflictions of the interregnum, the belief that appearance is everything."—London Review of Books

"The most compelling account yet of imperialism in its current phase."—Robert Brenner