Bloom (Hardcover)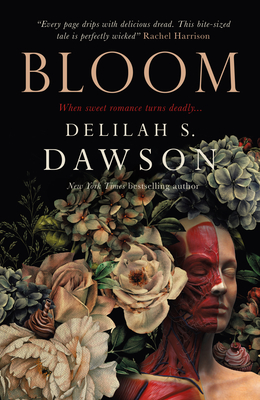 $22.99

Should Be On Our Shelves Now
Description
---
A sweet sapphic romance takes a deadly dark turn in this sharp-as-a-knife novella with the slow build menace of Angela Carter's The Bloody Chamber—from a New York Times-bestselling author hailed by Chuck Wendig as "a storyteller working at the top of her class."

Rosemary meets Ash at the farmers' market. Ash—precise, pretty, and practically perfect—sells bars of soap in delicate pastel colors, sprinkle-spackled cupcakes stacked on scalloped stands, beeswax candles, jelly jars of honey, and glossy green plants.
Ro has never felt this way about another woman; with Ash, she wants to be her and have her in equal measure. But as her obsession with Ash consumes her, she may find she's not the one doing the devouring…
Told in lush, delectable prose, this is a deliciously dark tale of passion taking an unsavory turn...
About the Author
---
Delilah S. Dawson is the New York Times bestselling author of Star Wars: PHASMA, plus over twenty other novels for kids, teens, and adults that mostly lean into Horror, or at least monsters, human and otherwise. As Lila Bowen, she writes Wake of Vultures and the Shadow series. She's written in the worlds of The X-Files, Firefly, Labyrinth, Adventure Time, Marvel Action Spider-Man, Hellboy, Minecraft, Stranger Things, and Disney Mirrorverse. She once worked in a haunted house, where she excelled as both a cannibal and a dead body. Delilah lives in Atlanta with her family and can be found online at delilahsdawson.com and on Twitter and Instagram as @DelilahSDawson.
Praise For…
---
Praise for Bloom:


"A slim novel with incredible potency. A literary pursuit for the ages. I can't recall a courtship as captivating as the one in these pages, and if there's a better writer than Delilah Dawson going today, I don't know 'em."
Josh Malerman, New York Times bestselling author of Bird Box and Spin a Black Yarn


"This quick and compulsively readable fairy-tale nightmare from Dawson (The Violence) will have readers gasping for breath and hungry for more." 
Library Journal


"A cottagecore dream turned nightmare, astonishing in its beauty and violence. Every page drips with delicious dread. This bite-sized tale is perfectly wicked." 
Rachel Harrison, author of Such Sharp Teeth


"Sensual, smart, biting, and downright nasty, Bloom is a dizzying, heady feast for the discerning palate. I devoured this book in one greedy sitting."
Paul Tremblay, author of The Pallbearers Club


"Sumptuous, lyrical prose meets horrific brutality in Delilah S. Dawson's harrowing tale of obsession and cruelty. An elegantly written nightmare, Bloom will beguile unsuspecting readers before finally slicing deep and drawing blood."
Eric LaRocca, author of Things Have Gotten Worse Since We Last Spoke


"Dawson has brought the kind of irresistible treat you've been hungering for. Sapphic longing with a dash of darkness—the perfect recipe. Superbly seductive." 
Hailey Piper, author of A Light Most Hateful


"Delicate and murderous, Bloom is the perfect encapsulation of a subgenre I'd only heard of in theory but now exists in its final form: cozy horror. Delight in the berries, blood and cupcake frosting—find yourself enraptured by the farmers' market aesthetic as designed by the Mads Mikkelson version of Hannibal Lecter."
Chuck Wendig, author of The Book of Accidents


"Like an unwary visitor to the Goblin Market, I was swept away by Delilah S. Dawson's Bloom, with its lush cottagegore settings and heart of absolute darkness." 
Ally Wilkes, author of All the White Spaces


"Gruesome and lovely, Bloom is compulsively readable. Like being slowly boiled alive, by the time you see the rot beneath the beauty, it's already too late. You're hooked." 
Kristi DeMeester, author of Such a Pretty Smile 


"Sumptuous, strange, and horrifying, Bloom walks the tenuous line between the ultimate romance and the ultimate nightmare. Delilah S. Dawson has created quite an intense and terrifying couple in her characters of Ro and Ash, and by the time you've finished the last page of this book, you won't soon forget them." 
Gwendolyn Kiste, Bram Stoker Award-winning author of The Rust Maidens and Reluctant Immortals


"Bloom unspools like a dreamy fairytale, Instagram-ready and dripping in enchanting language. The cracks in the surface are ever-present, hinting at the danger beneath, but in Delilah S. Dawson's hands darkness itself is as tantalizing as a richly frosted treat. Like Bloom's leading lady, readers will be seduced by this hypnotic, visceral romp—and be reminded that magic works because of what we refuse to see, which may be the moral of all the best fairytales."
Zoje Stage, bestselling author of Baby Teeth and Mothered