Galanz Air Fryer Oven Cookbook 1500: 1500 Days Creative and Foolproof Recipes to Air Fry, Bake, Broil and Toast (Paperback)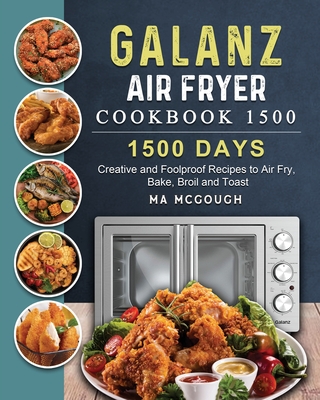 $21.59

Usually Ships in 3-5 Days
Description
---
Eating far to much fried food increases the risk of obesity and overweight. The more fried food you eat, the more likely you will get sick.
However, if you have meals cooked in air fryer, the problem will not exist.So it's time to turn to air fried food to decrease the fat intake and to lose some weight without reducing your fried food intake. Because air fryer helps to reduce the amount of fat.
1500 Galanz Air Fryer Oven Cookbook, you will be offered 1500 Days Creative and Foolproof Recipes recipes that you can cook in your Galanz Air Fryer Oven.
All you need is 1500 Galanz Air Fryer Oven Cookbook, and you'll learn to:
Bake―gooey Cinnamon Rolls
Toast―buttery Bruschetta with tomatoes and basil, plus ideas for easy toasting options
Fry―crispy Southern Fried Chicken, hot-as-you-want Buffalo Chicken Wings, and other classic comfort foods
Do you want to try this recipes to keep healthy lifestyle? Get it now, start to your new life.