Diy Hydroponics: A Step-By-Step Easy And Inexpensive Guide To Build Your Hydroponics Garden System (Hardcover)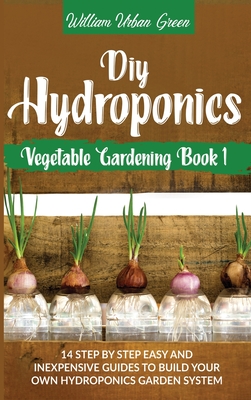 $36.95
Email or call for price
Description
---
Do you want a step-by-step easy and inexpensive guide to build your hydroponics garden system?
Your Customers will Never Stop to want to learn how to realized diy hydroponics
Hydroponics is a subset of hydroculture, which is a strategy for developing plants without soil by utilizing mineral supplement arrangements in water. Earthly plants might be developed with just their underlying foundations presented to the nutritious fluid, or the roots might be physically upheld by an inert medium, for example, perlite or rock.
The supplements utilized in hydroponic frameworks can emerge out of a variety of various sources, including from fish stool, duck compost, or bought substance manures. Hydroponically-developed plants incorporate tomatoes, peppers, cucumbers, lettuces.
Plants develop through a procedure called photosynthesis, in which they use daylight and a concoction inside their leaves called chlorophyll to change over carbon dioxide and water into glucose and oxygen.
This book covers the following topics:
- Types of hydroponic systems
- Build your hydroponic system
- Growing mediums and nutrients
- How to maintain a hydroponic system and potential problems
- Growing fruits and vegetables
- Pest control
- Myths and mistakes
- Tips and tricks
- FAQs
...And much more
There appear to be numerous points of interest in developing without soil. Since hydroponically developed plants dunk their foundations legitimately into supplement rich arrangements, they get what they need considerably more effectively than plants developing in soil, so they need a lot littler root frameworks and can redirect more vitality into leaf and stem development. With littler roots, you can develop more plants in a similar measure of ground. Numerous irritations are conveyed in soil, so managing without it, gives you a progressively sterile developing framework with fewer issues of illness. Since hydroponics is perfect for indoor development, you can utilize it to grow plants lasting throughout the year.
This is the color version
Buy It NOW and let your customers get addicted to this amazing book