Dr. Sebi Mucus Cleanse & Stop Smoking (Hardcover)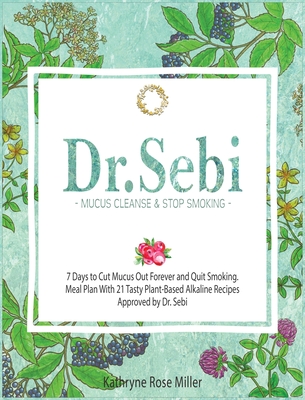 $47.99
Email or call for price
Description
---
Are you suffering from mucus and inflammation, or is your body reacting to certain foods, leading to too much Mucus production?
Or are you a victim of secondhand smoke, or you trying to quit smoking?
❤ Then this book is going to help you immensely ❤
This book is based on the teaching and guidelines of Dr. Sebi's alkaline, plant-based diet.
Since mucus is the cause of every disease, surrounding the community and food play a big role in the body, causing inflammation and mucus.
If you are looking to get rid of mucus, then you are in the right place.
By following this guide of Dr. Sebi's foods, & tips, you can get the benefits of
Know about what foods is over-activating the production of mucus
What measures you can take to heal your body
Dr. Sebi's food approved herbs, recipes, and 7-Day mucus cleanse
Reverse the smoking with Dr. Sebi's approved Herbs
Meal plan & recipes included for stop smoking today
Save yourself and others around you from smoking's effects
Lead your body toward health & balance
All these guidelines are based on Dr. Sebi's years' worth of research and work. Dr. Sebi's Diet is helpful in:
A healthier lifestyle, with low risk of diseases
Losing and maintaining a healthy weight
Low risk of mucus and smoke-free life
Body cleanse with food approved by Dr. Sebi
Maintain an alkaline pH of the body
Even if you have tried several times to quit smoking or clean yourself of mucus,
You should follow Dr. Sebi's Diet for Mucus and smoke cleanse for prevention and reversal.
If you want to live a healthier life, maintain weight, be at low risk for all diseases, avoid Mucus producing foods, and reverse smoking today.
Do not wait before it is too late.
So, do not Wait and Click the Buy Now Botton and Grab Your Copy Now