How to Talk to Anyone: The Only Practical Guide to Establish Effective Communication and Acquire Valuable Social Skills that will Improve Sel (Paperback)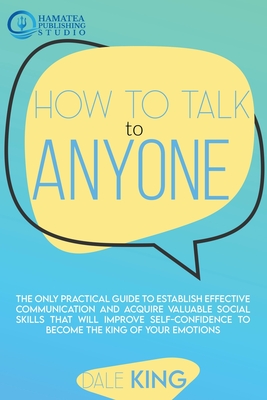 $18.98

Usually Ships in 3-5 Days
Description
---
Want to Communicate with Others Without Signs of Insecurity Troubling You? With the Magical Techniques in This Book, Get Ready to Effortlessly Lead Dialogues and Move Your Message Across
The world is constantly improving as a result of the developed ability of people to communicate better with each other. Having said that, it is massively important for us not only to be able to share our thoughts and ideas with the external world, but to put ourselves in a position to hear what the person in front has to say.
Some people manage to effectively combine this two-sided process quite well, while many struggles to find that right balance and might even get labeled as weirdos, but...
Communication skills can be trained, just like any muscle in your body. If you want to get in shape, but you don't know how, you hire a personal trainer.
Don't Miss Out on This Masterpiece Guide for Building the Foundation to Lead Conversations Effectively by Sparking Interest and Fascination, Because There's Plenty of Lessons You Will Learn
With This Book's Efficient Methods, you will:
- Understand How the Human Mind Works and learn how to read people's emotions (and not only words, because body and face expressions can tell the world what's happening)
- Easily Control Conversations and lead them to the direction you want them to be (curiosity and active listening can truly make the difference)
- Enjoy Successful Relationships with Others based on empathy and trust (Spoiler alert: the book offers plenty of tips and tricks on how to follow healthy interactions)
- Reveal Ways of Improving Word Choices to ensure you don't get misunderstood by the person you are talking to (you will never have to explain yourself over and over again)
- Use the Power of Words to Become Persuasive and use them as a weapon to strengthen, encourage and boost confidence (act like a true leader and lift others up)
- And Many Other Beneficial Topics
Talking to people isn't rocket science, but...
Yet, many of us experience difficulties when socializing with others, especially if they are speaking to a person they've just met.
Good thing is it doesn't need to be this way. You can cast shyness and the feeling of discomfort away, should you know where to start - This Guide Will Help You Keep on Track, Completely Risk Free
Ready to Make the First Step?
Order Your Copy Now and Become the Person Everyone Wants to Talk To