Bread Machine Cookbook for Beginners: 250 Easy Bread Recipes to Make Homemade Bread Right in Your Own Kitchen (Hardcover)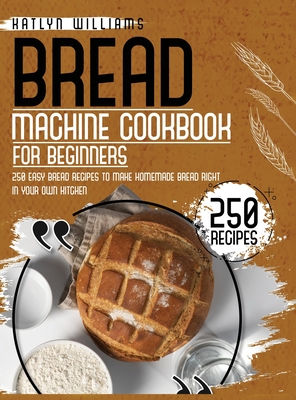 $37.99
Email or call for price.
Description
---
Kiss the struggles of baking homemade bread goodbye
Now you can make your own homemade bread just like your mother did when you were a child - but with a fraction of the effort.
Thanks to the masterpiece that is a bread machine, you can bake the perfect loaf of bread every single time.
With the Bread Machine Cookbook for Beginners, even the most amateur bakers will learn how to cook a number of different types of bread to impress their family and guests.
With this guide propped up on your kitchen counter, you will:
● Get 250 different bread recipes so you can find your favorites and perfect them
● Learn how to properly use a bread machine and how to clean and care for it when you're done
● Have simple step-by-step instructions to cook hundreds of recipes in your bread machine
● Impress your family and friends with your new homemade loaves of bread
● Never show up empty-handed to a friend or family member's home or event
● Save time and money using the bread machine to bake your own loaves of bread
● Feel less guilty about eating bread knowing you used natural ingredients free of preservatives and chemicals
● And Much More
No longer do you have to settle for buying a plastic-wrapped loaf of bread from the supermarket when you can whip up your own right at home.
Just imagine that slice of butter melting on a warm freshly cut piece of bread that has just come out of the oven. You're probably drooling just thinking about it.
Are you ready to learn how to bake the best bread you've ever eaten in no time at all?
...Then Order Your Cookbook and Get Baking Today