Renal Diet Cookbook: 200+ Easy and Flavorful Recipes for Every Stage of Kidney Disease. Low Sodium, Potassium and Phosphorus Diet to Help Y (Hardcover)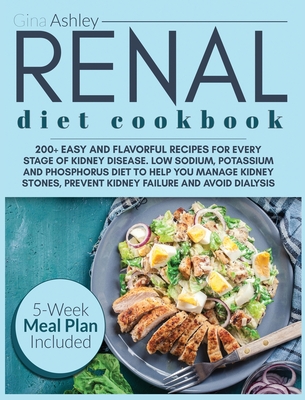 $36.65

Usually Ships in 3-5 Days
Description
---
Have you been diagnosed with chronic kidney disease? Are you looking for a diet that can help you stop or slow it?
If yes, then keep reading
A CKD can be very devastating for you and the people around you.
The idea that your kidneys could malfunction at any time can send chills throughout the body. Having to experience the symptoms such as a lowered amount of urine, combined with too much fatigue, pressure, or pain on the chest, is enough to get anyone anxious. The fact that there's a likelihood of death can make your life seem a gamble if left untreated.
However, you don't need to live like that anymore. Millions of individuals have lived normal lives despite being diagnosed with chronic kidney disease. But how can you live that 'normal' life? One thing you need to do is to begin taking precautionary measures to stop or slow down the progression of the condition.
This is where this book can help you. Inside this Renal diet Cookbook, you will be presented with a beginner-friendly approach to understanding seemingly complicated ideas about renal diet. Allow this guide to help you apply the things you'll learn immediately.
Here's a quick peek of what you will find:
- Chronic Kidney Disease
- Foods to add and remove from your pantry
- Easy 5-weeks meal plan
- Appetizers, soups, sauces, snacks and desserts
- Meat, poultry, fish and seafood
- Vegetarian and vegan recipes
...And much more
Changing your diet is only as crucial as taking your medicine.
Buy NOW and let your customers get addicted to this incredible book