Kidney Disease Diet: Stop Kidney Disease and Improve Kidney Function with a Healthy Diet, a Correct Lifestyle and the Latest Scientific Fin (Hardcover)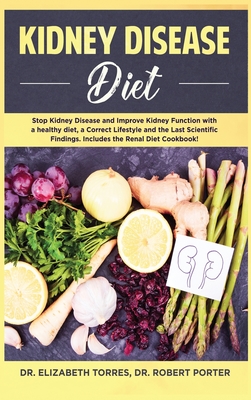 $34.00
Usually Ships in 3-5 Days
Description
---
Fight and Stop a Chronic Kidney Disease, Diabetes and High Blood Pressure with this Amazing Guide
Do you suffer from chronic kidney disease, diabetes or high blood pressure?
Are you looking for a healthy and proven way to prevent these dangerous conditions?
Do you want to discover the newest treatments of chronic kidney disease, backed up by medicine and science?If so, keep reading.
Kidneys are the "janitors" of our bodies. They serve as a filter for waste and toxins, keep our blood clean and produce urine.Their health is incredibly important for the functioning of our whole organism.
Unfortunately, 10% of the world's population suffers from chronic kidney disease (CKD), and more than 30 million of them reside in the United States. Luckily, CKD can be treated, and sometimes even prevented
.
In this amazing guide on Kidney Disease Diet, you'll find out how to manage kidney disease, prevent their failure, and treat conditions such as high blood pressure and diabetes through a healthy lifestyle and diet.
Implementing these strategies in your daily routine will improve your overall health and stop the CKD from advancing further.
Here's what you get with this book:
A guide on the importance of kidneys and the endocrine system
A comprehensive list of diseases connected with kidneys, including symptoms and treatment options
A guide on how to adapt to a healthy lifestyle and diet
A detailed manual on scientifically proven treatments, therapies, and cures for kidney diseases
Instructions on how to treat your kidney disease with success, no matter the disease stage you're currently in
Detailed recipes for tasty meals, adapted for disease types 1-5 and dialysis patients
And much more
As human beings, we have a tendency to ignore our body's cries for help until it's too late.
You've probably heard the expression
"prevention is better than cure"
. Chronic kidney disease can happen to anyone, even if you already live a mostly healthy lifestyle.
Use this book to find out if you're a part of the risk group,
and what you should eliminate from your life and avoid to prevent this life-threatening disease.
★★★★★★★★★★★
Buy the Paperback Version of this Book and get the PDF Book Version for Free:
Download PDF Version
Find the Direct Download Link (page 173)
★★★★★★★★★★★