Bloody Alphabet 3: The Scariest Serial Killers Coloring Book. A True Crime Adult Gift - Full of Notorious Serial Killers. For Adults Only (Large Print / Paperback)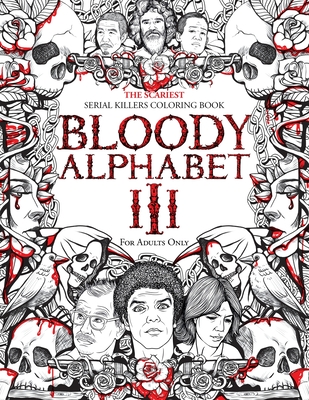 $17.99

Usually Ships in 3-5 Days
Description
---
Satisfy your morbid curiosities with the third volume of this Amazon best-selling coloring book series.
Containing 20+ unnerving and sinister serial killer portraits, this deeply ominous coloring book will take you on journey into the dark and twisted minds of some of the world's most infamous serial killers. Brimming with detail and specially crafted to spark your creativity and morbid imagination, the Bloody Alphabet Collection Volume III combines two dozen one-of-a-kind illustrations for your coloring enjoyment.
Featuring a full portrait, the kill count, and the name of every serial killer, you'll also find illustrations packed withspine-chilling symbolism involving their favorite weapons of choice. If you've always been fascinated by serial killers and true crime, or if you want to find a thoughtful and creative gift idea for a friend, co-worker, relative or family member, then this creepy coloring book is for you.
Inside, you'll find the portraits of:
- Larry Eyler
- "Fritz" Harrmann
- Albert DeSlavo
- Elizabeth Bathory
- Pedro Filho Rodrigues
- Gerald and Charlene Gallego
- Miyuki Ishikawa
- Patrick Wayne Kearney
- And Many More...
From murderous medical staff to ferocious fishermen and even a serial killer from the Middle Ages, this unique and ingenious book brings you dozens of illustrations from lesser-known - but no less deadly - serial killers. So dive into this cruel and twisted world and let your inner artist run wild...
Ready to bring these illustrations to life? Then grab your copy now.