A Degree in a Book: Psychology: Everything You Need to Know to Master the Subject - In One Book! (Paperback)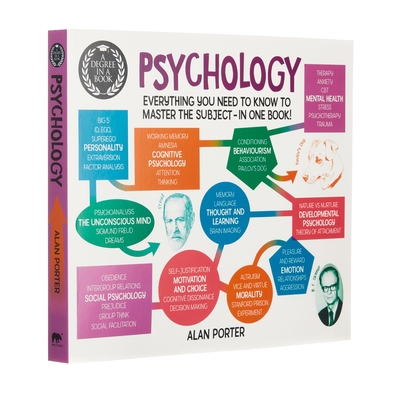 $24.99
Usually Ships in 3-5 Days
Description
---
Filled with beautiful full-color diagrams and illustrated throughout, A Degree in a Book: Psychology is a perfect introduction for students and laypeople alike.
With mind maps for each chapter, definition boxes, easily digestible features on the history of psychology and suggestions for further reading, it provides you with everything you need to understand the fundamental issues. Learning psychology has never been easier. Filled with helpful diagrams, suggestions for further reading, and easily digestible history sections, this book makes understanding the human mind easier than ever. Including the theories of Sigmund Freud, Ivan Pavlov, and many more, it covers the whole range of psychology. By the time you finish reading this book, you will be able to answer questions like:
- How do we learn?
- Do groups make better decisions than individuals?
- How do we study the living brain?
- What are the components personality?
About the Author
---
Alan Porter is a senior lecturer in psychology at the University of Westminster. He is passionate about education and is determined to bring the theories of psychology to a wider audience, both through his teaching and his writing.