Everything You Have Told Me Is True: The Many Faces of Al Shabaab (Hardcover)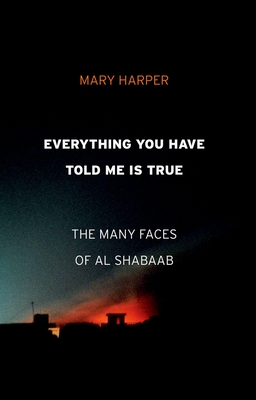 $29.95

Usually Ships in 3-5 Days
Description
---
The East African group Al Shabaab is one of the century's most successful violent jihadist movements. Now over a decade old, its staying power has defied local and international efforts to destroy it, including US drone attacks and an African Union force. It also has governing power, ruling
over millions of Somalis and vast swathes of territory, and physical power, committing spectacular acts of violence. But what lies behind the headlines and the bloodshed? Who are Al Shabaab and why do people join? How does this organization govern, educate and indoctrinate? How does it operate such
successful financial, communications and intelligence networks? BBC Africa Editor Mary Harper has reported on Somalia for twenty-five years. She has gained extraordinary access to members of Al Shabaab-and they in turn have intruded unsettlingly into her life. Travelling throughout the region, she speaks to ordinary people with daily experience of Al Shabaab.
Some have suffered tremendous loss or made unbearable compromises; others have benefited, often in unexpected ways. Harper's account is a must-read for anyone looking to get under the skin of violent jihadists, those who report on them, and those who must live in their shadow.

About the Author
---
Mary Harper, the BBC Africa Editor, has reported on Africa and from its conflict zones for a quarter-century. The author of Getting Somalia Wrong?, she has served as an expert witness and advised the European Commission on the Horn of Africa, and contributes to The Times, Guardian and Economist.