Your Personal Stop Smoking Plan: The Revolutionary Method for Quitting Cigarettes, E-Cigarettes and All Nicotine Products (Allen Carr's Easyway #16) (Paperback)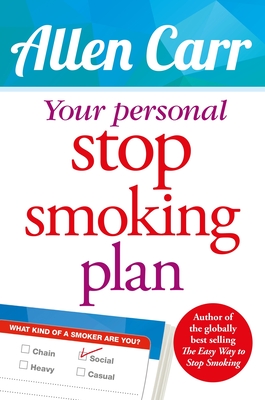 $14.95
Email or call for price
Description
---
READ THIS BOOK AND BECOME A HAPPY NONSMOKER AND NICOTINE-FREE FOR THE REST OF YOUR LIFE.
Allen Carr's Easyway method has helped millions of people to stop smoking. This is the first ever interactive Allen Carr book. By regularly interacting with the text in an easy yet dynamic and measurable way you begin to write the story of how you came to smoke. By understanding why you continue to smoke in spite of the obvious disadvantages, you are able to follow the simple step-by-step instructions that set you free. No pain. No drama. - CARRY ON SMOKING WHILE YOU READ
- A UNIQUE METHOD THAT DOES NOT REQUIRE WILLPOWER
- REMOVES THE DESIRE FOR NICOTINE
- REGAIN CONTROL OF YOUR LIFE
- WORKS FOR ALL NICOTINE ADDICTION, INCLUDING E-CIGARETTES
What people say about Allen Carr's Easyway method:

The Allen Carr program was nothing short of a miracle.
Anjelica Huston
It was such a revelation that instantly I was freed from addiction.
Sir Anthony Hopkins
His skill is in removing the psychological dependence.
The Sunday Times
About the Author
---
Allen Carr was chain-smoking 100 cigarettes a day. After repeated failed attempts to stop smoking, Allen's conversion into a non-smoker was as dramatic as it was totally unexpected. His discovery of the kernel of what would become the Easyway method brought about another life-changing decision: to dedicate his life to the fight against nicotine addiction.