First Descent (Paperback)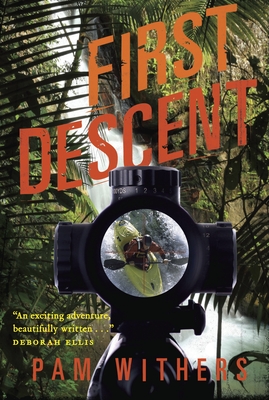 $9.99
Email or call for price
Description
---
Montana-born Rex dreams of following in his grandfather's footsteps and making a first descent down one of the world's last unconquered wild rivers. When he finally gets enough sponsors, Rex heads to South America to tackle the well-named El Furioso. And while he anticipates the river's challenges, he finds himself in a situation where the real danger is human.

In Colombia, he hires a guide: seventeen year-old Myriam Calambás, an indígena who has lived along El Furioso all her life. Though she loves its rushing waters, Myriam longs to go to university, become a reporter, and tell the world what is happening to her people. Her dreams, and her very survival, are in the balance when she and Rex become caught up in the clash between the paramilitaries, who work for the rich landowners, and the guerillas, who are supposed to protect the poor.

Pam Withers' skill at writing about extreme sports is reflected in this compelling novel about an endangered world and a people struggling for their very right to exist.
About the Author
---
PAM WITHERS is the critically acclaimed author of fifteen best-selling outdoor-adventure books for teens. Born in Wisconsin and fascinated by the world of extreme sports, she is a former slalom kayak racer, kayak instructor, whitewater raft guide, journalist, editor, and associate publisher. A popular public speaker across North America, Pam Withers is also co-founder of www.keenreaders.org. Pam Withers lives in Vancouver, British Columbia, with her husband. The author lives in Vancouver, British Columbia.
Praise For…
---
"…Pam Withers' new book First Descent is a book that just can't be put down. From the first page to the last, Withers keeps her readers on the edge of their seats. Moving from a tale of frustration and arrogance to one of survival, heroism, and humility, the story of Rex's adventure to Colombia to navigate the aptly named El Furioso river will keep audiences flipping pages until the last sentence. Withers is a talented author with a knack for exciting and gripping action as well as for sympathetic and moving characters. The plot is well-paced, and her prose elicits beautiful images of the Colombian landscape…. Highly recommended."
–CM Magazine

"...From the first page, when Rex hears a crack of river ice, sees an eight-year-old in peril, and enacts a dramatic rescue in which he must out-paddle an advancing mountain of ice, Withers flings the reader from one perilous adventure to another...."
— Booklist "
 
Kayaking action and encounters with the various military groups are vivid and thrilling."
— Kirkus Reviews
 
"...a fast-paced novel.... Mature teens will find this a compelling story of clashing cultures and social challenge."
—The Midwest Book Review