PCOS Diet Cookbook: Over 200 Proven, Delicious and Easy PCOS Diet Recipes to Lose Weight, Boost Fertility and Improve Metabolism. (Paperback)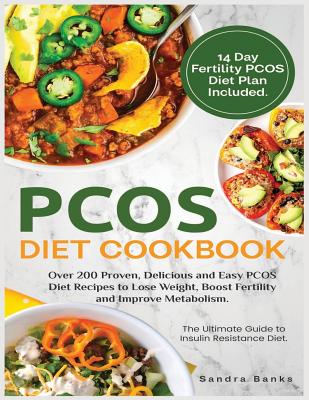 $11.77
Email or call for price
Description
---
A hormonal disorder, PCOS or Polycystic Ovary Syndrome affects many women in their full reproductive age.
Common signs to look out for include inconsistent menstrual periods or abnormally high presence of Androgen - a male hormone. Ovaries may also lag in releasing eggs and develop small fluid collections called follicles. Finding out if you have PCOS in its early stage and getting the right treatment are your best ways of staying safe or effectively managing the condition. Such early diagnosis and treatment will also help rule out your chances of developing secondary complications like heart disease and type 2 diabetes.
Here are common causes of Polycystic ovary syndrome:
- Skyrocketing Insulin levels
Insulin has been hugely linked with PCOS. When low on insulin, the body tries to solve this problem by producing more of it in a bid to regulate your blood sugar. In excess amount, however, insulin might enhance androgen production, ultimately leading to difficult ovulation.
- Low-grade Inflammation
A term that describes the defence mechanism of white blood cells to fight infection, a certain type low-grade inflammation is present in women with PCOS that enhances the production of androgens by polycystic ovaries, a situation that triggers a myriad of heart and blood vessel conditions.
- Heredity
It is also believed that individuals with a family history of PCOS might have a higher chance of developing the condition if they carry certain PCOS - linked genes.
- Excess androgen
Dysfunctional ovaries may produce staggering levels of androgen, which triggers acne and hirsutism and can lead to PCOS.
Having considered these risk factors, it's just as important to watch the food options you consume and see the link they have on your general health. Preventing the development and progression of PCOS is undoubtedly enhanced with a good dietary lifestyle and early diagnosis. And with a trusty diet cookbook to follow, such as this PCOS Cookbook, you can be on your way to a healthier and PCOS free life.
This PCOS Cookbook will feature:
- A Closer Look at PCOS
- Access to Over 200 Recipes that Include Detailed Nutritional Information, Ingredient List, Cook/Prep Time & Detailed Instructions
- Top 10 Weird Tips to Increase Fertility
- Learn How to Incorporate PCOS Diet into Your Lifestyle
- Tips & Tricks to Make High-Lectin Foods Safe to Eat
- Top 5 Tips for Easy Weight Loss
- A Guide on How to Manage PCOS with Diet and Healthy Lifestyle & Kickstart Your Metabolism
- Breakfast Recipes
- Lunch Recipes
- Dinner Recipes
- Snack Recipes
- Dessert Recipes
- Mouth-watering Meat Recipes
- Easy Seafood Recipes
- Delicious Vegan & Vegetarian Recipes
- Amazing Soup Recipes
- And Much, Much More

Grab your copy of the PCOS Diet Cookbook today