Large Print Word Search Puzzle Book: Adult Easy Level, Easy to Read, Puzzles and Solutions, 8.5 X 11 (Paperback)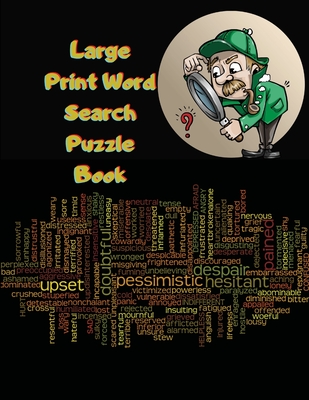 $9.49
Email or call for price
Description
---
Sharpen your thinking skills This book is just one step in keeping your brain healthy Puzzles
improve short-term memory, cultivate creative thinking, and hone observational and deductive skills.
They are also a fabulous way to relieve stress and flex those mental muscles. This fantastic puzzle book
will provide you with hours of fun while keeping your brain happy and healthy. Anyone who loves Word
Search puzzles or a new challenge will love this book
This is the perfect book to buy for yourself.
It will help you:
Improve your vocabulary and spelling skills
Reduces screen time
Disconnect from daily stresses
Develop the ability to notice patterns
Improve your problem-solving skills
Improves your investigative thinking skills
Keeps your brain healthy and fit
Can be done ANYWHERE
Pass the time while waiting at the doctor's office, DMV, or airport. Make road trips and other
passenger travel bearable.
Provide hours of entertainment especially on weekends and rainy days.
Take it to the beach for a day of sun and relaxation
They are also a LOT OF FUN
It also makes an excellent gift. Family members, Seniors, Friends, and Coworkers will love to
receive this. Perfect for: Birthdays, Christmas, Gift exchanges, Graduations, Easter baskets
Book includes:
Adult Easy Level, Easy to Read Puzzles and Solutions
Every puzzle has over 51 page words to find and A Comprehensive Answer Key for each puzzle
Large, 8.5"X11", Over 51 page, Black and White Interior
Professional Book Grade Binding.
Premium Design, Beautiful Matte Paperback Cover
Created in USA, Veteran-Owned
If you're interested in more journals like this one - please click on our authors name, "Journals
ForYou," and check out our other titles.a