Oh God, The Sun Goes (Paperback)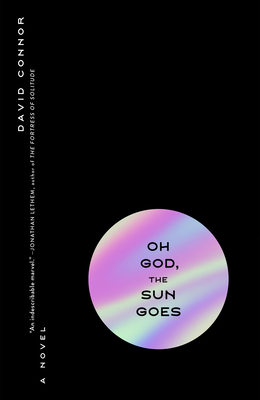 $18.99

Should Be On Our Shelves Now
Description
---
"A highly original and engagingly odd book." - Brian Evenson, author of Song for the Unraveling of the World

"...wondrous...mysterious...Connor lands plenty of stimulating riffs on themes of memory, love, and loss, all in lyrical prose and suffused with surreal imagery." - Publishers Weekly

An "indescribable marvel" (Jonathan Lethem) of a debut novel from a brilliant new voice

The sun has disappeared from the sky. No one can explain where it has gone, but one wayward traveler is determined to try. As our unnamed narrator begins his odyssey across the parched landscapes of the American Southwest, he is drawn into a web of illusion and mystery, a shifting astral mindscape that shimmers with the aftermath of loss—and the promise of redemption.

Oh God, the Sun Goes is a hallucinatory and deadpan picaresque that suddenly swerves into a love story of soaring poignance. Truly "the stuff that dreams are made of" – or maybe nightmares?

Apocalyptic, mesmerizing, and utterly unique, Oh God, the Sun Goes introduces readers to a young and keenly inventive mind.

4 one of a kind illustrations within and on the outside a cool holographic foil stamp cover.
About the Author
---
David Connor studied at Pomona College and the California Institute of the Arts, where he was the recipient of the William H. Ahmanson Endowed Scholarship Award. He lives in New York City and Montreal, Canada. Oh God, the Sun Goes is his first novel.
Praise For…
---
"Experimental...daring...If you have an appetite for prose that is strange, stylized, prescient, and sincere, Oh God, The Sun Goes will come as a welcome departure from the ordinary and everyday." — The Millions

"The sun disappears from the sky in this daring, dreamy, David-Lynchian novel that moves you even as it messes with your head." — The Philadelphia Inquirer

"Bracingly different..." — The Toronto Star

"Hallucinatory apocalyptic debut novel." — Nylon

"Connor flexes his creativity and cognitive neuroscience muscles to great extent. Strange and compelling, also beautifully written. Whichever thread individual readers latch on to, Connor has created a work that they won't soon forget." — The Chicago Review of Books, Aaron Coats

"Melville House has made a name for itself by publishing experimental fiction, such as Jinwoo Chong's kinetic first novel, Flux. Now, the house has done it again with Oh God....If you enjoy literary fiction that bends genres and undermines conventional plots, Connor's novel is probably for you." — CounterPunch

"Wondrous, Mysterious...Connor lands plenty of stimulating riffs on themes of memory, love, and loss, all in lyrical prose and suffused with surreal imagery. This offbeat tale is worth a look." —Publishers Weekly

"[A] dazzling fabulistic novel." —Foreword Reviews

"An indescribable marvel ... A writer who will seemingly follow his intuitions anywhere, with blazing results." —Jonathan Lethem, author of The Fortress of Solitude

"Oh God, the Sun Goes is what might happen if Raymond Carver and Martin Heidegger were spliced together, given a double PhD in neurology and heartbreak, and decided to write a book that was at once highly symbolic and resonantly human.  A highly original and engagingly odd book." —Brian Evenson, author of Song for the Unraveling of the World

"David Connor's exhilarating debut, Oh God, the Sun Goes, renders our natural world and interior lives with wit, earnestness, and tender observation; exploring love and loss with equal and opposite ache and awe. Connor's prose is effortlessly lyrical, slyly poignant, both daring and deceptively clean; announcing a gutsy new voice to cheer for and cherish." —Morgan Parker, author of There Are More Beautiful Things than Beyoncé