Ambushed!: The Assassination Plot Against President Garfield (Medical Fiascoes) (Hardcover)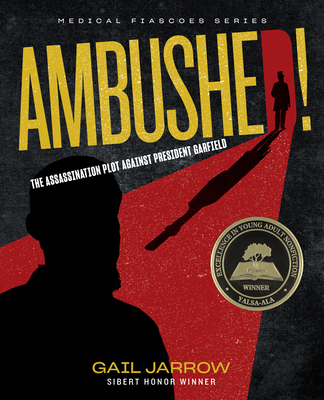 $19.99

Usually Ships in 3-5 Days
Description
---
Winner of the 2022 YALSA Excellence in Nonfiction for Young Adults Award

This thrilling title for young readers blends science, history, and medical mysteries to tell the story of the assassination and ultimately horrible death of President James Garfield.

James Abram Garfield, the 20th President of the United States, was assassinated when he was shot by Charles Guiteau in July 1881, less than four months after he was elected president. But Garfield didn't actually die until 80 days later. In this page-turner, award-winning author Gail Jarrow delves into the fascinating story of the relationship between Garfield and Guiteau, and relates the gruesome details of Garfield's slow and agonizing death. She reveals medical mistakes made in the aftermath of Garfield's assassination, including the faulty diagnoses and outdated treatments that led to the president's demise. This gripping blend of science, history, and mystery—the latest title in the Medical Fiascoes series—is nonfiction for kids at its best: exciting and relevant and packed with plenty of villains and horrifying facts.
About the Author
---
Gail Jarrow is the author of nonfiction books and novels for readers ages 8-18. Her nonfiction books have earned the Sibert Honor; the Orbis Pictus Honor; the YALSA Award Nomination for Excellence in Nonfiction; a Notable Social Studies Trade Book, Outstanding Science Trade Book; a NSTA Best STEM book; the Jefferson Cup Award; the Eureka! Gold Award; as well as Kirkus Reviews and School Library Journal Best Books and VOYA Honor Book distinctions. You can find her at gailjarrow.com.
Praise For…
---
Winner of the 2022 YALSA Excellence in Nonfiction for Young Adults Award
Kirkus Reviews Best Book
2022 Grateful American Book Prize Honorable Mention
Texas Library Association Texas Topaz Nonfiction Reading List

★ "The latest installment of Jarrow's Medical Fiascoes series dissects the assassination of President James Garfield. With characteristic thoroughness, Jarrow tells the entire story, including details from Garfield's children's diaries and numerous other firsthand sources as well as many illustrations. The volume's attractive design and clear, accessible text make it eminently readable. Garfield's illness united the country, and his death led to civil service reform and the advancement of germ theory—but readers are left mourning his loss. Invites appreciation of and affection for a president nearly everyone has forgotten." —Kirkus Reviews, starred review

★ "This well-researched, engaging second entry in the Medical Fiascoes series recounts the torturous medical treatment President Garfield endured after being shot by an assassin on July 2, 1881. The primary source materials (diaries, letters, interviews) are revealing, and the many historical photos and full-page illustrations from newspapers and magazines of the time appealing. Each chapter's intriguing last sentence invites continued reading. Readers unfamiliar with this nearly forgotten president will find themselves admiring him for his forbearance and good nature throughout his ordeal. Well sourced and highly recommended." —Booklist, starred review

★ "Jarrow continues her 'Medical Fiascoes' series with a compelling account of the life and death of James Garfield, the 20th President of the United States.  The author has provided a multitude of primary sources to enhance the immediacy of her writing. The ramifications of each medical decision are reviewed and placed in their political and the historical contexts. The slow, lingering death of James Garfield in the summer heat of Washington, D.C., the anger of the American people, and the mental instability of the assassin all combine to make this an unforgettable book. Back matter includes glossary, time line, more to explore online websites, author's note, source notes, extensive bibliography, index, and picture credits. Highly recommended." —School Library Journal, starred review