The Wonder Weeks: A Stress-Free Guide to Your Baby's Behavior (Paperback)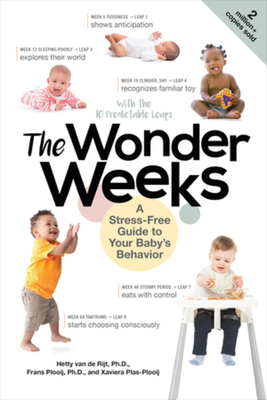 $19.95
Usually Ships in 3-5 Days
Description
---
Everything a new parent needs to know about their baby's 10 magical "leaps"—and when to expect them—in a new, modern sixth edition of The Wonder Weeks
The Wonder Weeks
answers the question, "Why is my baby cranky, clingy, and crying?" with helpful guidance. Maybe they're experiencing a leap in brain development, after which new skills are mastered, discoveries are made, and perceptions evolve. Fussy behavior might signal that great progress is underway!
Better yet, these phases occur on similar schedules for most babies—as explained and mapped out in this book—so parents can anticipate the "stormy weeks" that precede the "sunny weeks." Based on decades of research, this fully revised sixth edition covers the first 20 months of a baby's life and includes:


The top 10 things to know and remember about a leap


Fun games to support brain development


Fill-in-the-blank checklists to help better understand personality and behavior traits


Science-based explanations about sleep


Fresh insight and recent commentary from new parents who've used The Wonder Weeks


Anchor moments to keep new parents sane, especially when they are exhausted and discouraged


With 2 million+ books sold, and 4 million+ downloads of the corresponding app, The Wonder Weeks has struck a chord. Join the phenomenon that has been embraced by celebrities, social media influencers, and parents worldwide.
About the Author
---
Xaviera Plooij, mother of three and CEO of the Wonder Weeks, has one mission: to give parents the tools they need in order to fully understand their baby's mental and emotional development. Daughter of Dr. Frans X. Plooij and Dr. Hetty van de Rijt, founding authors of The Wonder Weeks, Plas-Plooij has significantly revised and modernized the sixth edition of the book. As a writer, columnist, and popular speaker, she's in 24/7 contact with parents around the globe. Plas-Plooij is a trusted member of the Lumi by Pampers Expert Advisory Panel. She lives with her husband and children in the Netherlands.

Frans X. Plooij, PhD, has been conducting research in the field of psychology for close to 50 years. Highlights include working alongside his wife, Dr. van de Rijt, with Dr. Jane Goodall on infant development in free-living chimpanzees in the Gombe National Park; leading the department of Research and Development at the institute for Child Studies of the City of Amsterdam; and currently presiding over the International Research Institute on Infant Studies (IRIS) at Arnhem, the Netherlands. He is a full member of several international scientific societies in the domains of child development and behavioral biology and of the New York Academy of Sciences.

The late Hetty van de Rijt received her PhD at Cambridge University as a physical anthropologist. With her husband, Dr. Plooij, she studied infant development in free-living chimpanzees with Dr. Jane Goodall in the Gombe National Park. As a researcher at the University of Amsterdam, she studied the development of human babies in their home environment through direct observations, filming, and in-depth interviews with their parents.
Praise For…
---
Anyone who deals with infants and young children will want to read The Wonder Weeks. This book will open parents' eyes to aspects of their children's growth, development, changing behavior, and emotional responsiveness that they might otherwise not notice or find puzzling and distressing.

— Catherine Snow, PhD, Shattuck Professor of Education, Harvard Graduate School of Education

This is a very practical and entertaining window into the baby's first year and a half. van de Rijt and Plooij have observed and found the vulnerable times in an infant's development that I independently came to in my book Touchpoints (Perseus). The authors' observations and practical suggestions are wonderful.

— T. Berry Brazelton, MD, professor emeritus, Harvard Medical School

The Wonder Weeks is the newly-updated go-to guide for understanding your child's mental developmental milestones (referred to as "leaps")….Understanding the real reason behind crying and eating and sleeping problems is the only real solution parents need, and take it from us—you'll be glad to be in the know.

— Pregnancy & Newborn

One of our personal favorites…[a] comprehensive guide to baby's development during the first 20 months…
— The Bump

Reading The Wonder Weeks saved my sanity more than once during the times my baby got inexplicably fussy or refused to sleep. It's a must read for any new mom.

— Popsugar.family

Armed with the insight of [The Wonder Weeks] I would have been more confident as a new parent... rather than anxious, about how my baby was experiencing the world

— Rookie Moms

Fantastic tips on how to help baby reach his potential during and after [the wonder weeks].
— The Cradle Coach

Once I realized there was a reason—and a positive reason, at that—that my kid had suddenly turned terrible, it eased the pain of parenting through these times.
— Mom.com

The book outlines when and why each "wonder week" happens; it also offers parents insights into how to help their babies navigate each wonder week, and turn it into a leap forward for baby.
— The Baby Sleep Site