The ABCs of Metallica (Hardcover)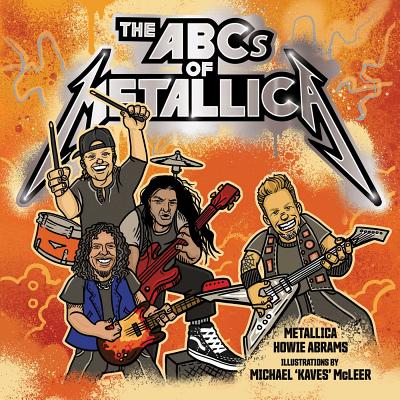 $18.99

Usually Ships in 3-5 Days
Description
---
An alphabetical history of one of rock's heaviest bands…Metallica!

Featuring hard-rocking rhymes and bold illustrations, The ABCs of Metallica looks back at the remarkable history of one of rock 'n' roll's most celebrated groups. Each letter of the alphabet highlights a significant moment along the band's journey, from their humble Garage Days, to their numerous classic albums such as ...And Justice for All and Master of Puppets, to biographical information on the band members themselves.

The book is sure to entertain young readers as well as diehard fans of all ages.

A portion of the proceeds will benefit Metallica's All Within My Hands Foundation, which is dedicated to creating sustainable communities by supporting workforce education, the fight against hunger, and other critical local services.
About the Author
---
Formed in 1981 by drummer Lars Ulrich and guitarist/vocalist James Hetfield, Metallica has become one of the most influential and commercially successful rock bands in history, having sold nearly 120 million albums worldwide and generating more than 2.5 billion streams while playing to millions of fans on literally all seven continents. The band's several multi-platinum albums include Kill 'em All, Ride The Lightning, Master of Puppets, … And Justice for All, Metallica (commonly referred to as The Black Album), Load, Reload, St. Anger, Death Magnetic, and most recently Hardwired...to Self-Destruct, released in November 2016 and charting at #1 in 32 countries.

Metallica's numerous awards and accolades include nine Grammy Awards, two American Music Awards, and multiple MTV Video Music Awards, and induction into the Rock & Roll Hall of Fame in 2009. In June of 2018, the band was awarded one of the most prestigious musical honors in the world: Sweden's Polar Music Prize. Metallica is currently in the midst of its WorldWired tour, which began in 2016 and is scheduled to continue through 2020.

Howie Abrams is a former music business executive turned author. He co-authored Finding Joseph I: An Oral History of H.R. from Bad Brains, The Merciless Book of Metal Lists, Misfit Summer Camp: 20 Years on the Road with the Vans Warped Tour, Hip-Hop Alphabet and Hip-Hop Alphabet 2. He co-hosts a weekly radio show called Merciless with rapper ILL BILL.

Michael "Kaves" McLeer is a legendary graffiti artist, the author of Skin Graf: Masters of Graffiti Tattoo, and illustrator for Hip-Hop Alphabet and Hip-Hop Alphabet 2. He has created logos and graphics for world renowned artists such as the Beastie Boys and brands the likes of Jaguar and Gretsch Guitars. He is an MC in the hip-hop/rock group Lordz of Brooklyn.