Remote Access: Small Public Libraries in Arkansas (The Arkansas Character) (Hardcover)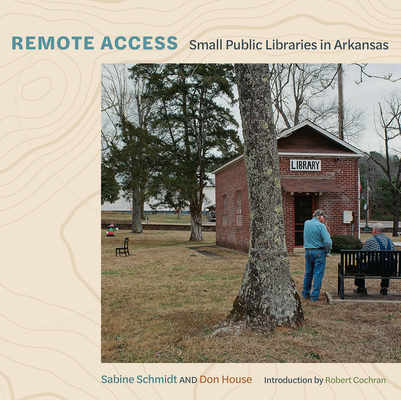 $45.00

Usually Ships in 3-5 Days
Description
---
With their cameras and notebooks in hand, photographers Sabine Schmidt and Don House embarked on an ambitious project to document the libraries committed to serving Arkansas's smallest communities. Remote Access is the culmination of this fascinating three-year effort, which took the artists to every region of their home state.
Schmidt's carefully constructed color images of libraries and the communities they serve and House's rich black-and-white portraits of library patrons and staff shine alongside the authors' personal essays about their experiences. The pages here come alive with a deep connection to Arkansas's history and culture as we accompany the authors on visits to a section of the Trail of Tears near Parkin, to the site of the tragic 1959 fire at the Arkansas Negro Boys Industrial School in Wrightsville, and to Maya Angelou's childhood home in Stamps, among many other significant destinations.
Through this testament to the essential role of libraries in the twenty-first century, Schmidt and House have created a clear-eyed portrait of contemporary rural life, delving into issues of race, politics, gender, and isolation as they document the remarkable hard work and generosity put forth in community efforts to sustain local libraries.
About the Author
---
Sabine Schmidt holds an MA in American studies from the University of Hamburg and an MFA in literary translation from the University of Arkansas. Her work has appeared in many publications, including National Geographic and the German edition of Rolling Stone, and her Paper House series led to an installation commission from the Winthrop Rockefeller Institute. She won an Individual Artist Fellowship from the Arkansas Arts Council in 2018.

Don House has been photographing the people and landscapes of Arkansas for nearly four decades. His images have appeared in numerous exhibitions and in publications as diverse as Woman's World and the Wall Street Journal. He is the author of Buffalo Creek Chronicles, Not a Good Sign, and the children's book Otto's Great Adventure.
 
 
Praise For…
---
"What a wonderful, lovely book this is: a much-needed celebration of rural libraries, librarians, and readers."
—Keith Carter, author of From Uncertain to Blue

"Photography's unique power is in its ability to draw forth and cauterize memory. There is an urgency for projects like Remote Access. Time is running out for documenting the vernacular, the rural, the folks who decide to stay and invest in their communities. Communities that, from the window of a car, appear to have been left behind by the contemporary world. Praise be to the Schmidt-House team for bearing witness, and to those folks with the title 'librarian,' for doing the curative work of holding on to place."
—Maxine Payne, photographer and professor at Hendrix College

"Remote Access was a delight to read. There were times when I smiled, when I shed a tear, and when I thought, 'Yes, they got it.' The rich story of public libraries and their value to a community."
—Carolyn Ashcraft, former Arkansas State Librarian