The Ultimate Survival Manual (Outdoor Life Extreme Edition): Modern Day Survival | Avoid Diseases | Quarantine Tips (Paperback)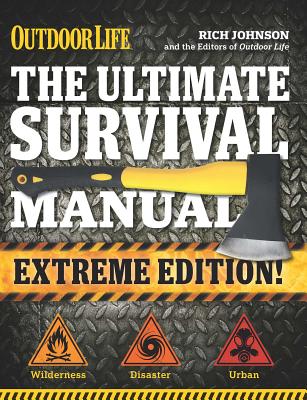 $29.00

Usually Ships in 3-5 Days
Description
---
SURVIVE MODERN DANGERS AS TAUGHT BY SPECIAL FORCES EXPERT RICH JOHNSON
In a world awash with natural and manmade disasters, anticipation and preparation are crucial to your survival chances. Survival guru and American Special forces expert Rich Johnson walks you through 350 pages of practical and crucial skills and scenarios that could help save you and your family.
Packaged in a durable, wipe-clean flexicover with metallic corner-guards, this practical manual withstands heavy-duty use indoors and out.
Overcome Modern Dangers. Learn how to avoid airborne diseases, clean chemical spills and treat poisoning victims.
Read Real-Life Survival Stories. Concrete examples of how survival skills helped in true crisis situations such as home invasions, Cartel abductions, snowstorms, hurricanes, and wildfires.
Learn basic survival skills. Detailed instructions on how to make a bow and arrow, the CORRECT way to don a gas mask and how you can harvest Aspirin from tree bark.
Gain advanced survival skills. Develop your expertise with guides on how to generate your own power, build a quarantine room, start a car with a screwdriver and crucial advice on decontaminating yourself, your home and your family.
Tips from an American Expert. Rich Johnson is a former special forces soldier, instructor to the US Coast Guard and contributor to Outdoor Life magazine. Having spent over two years living in the wild with his wife and adolescent children, Rich offers advice that is both expert and practical.
About the Author
---
When it comes to survival, Rich Johnson's done a lot of it. He's worked as a demolition sergeant in the US Army Special Forces, a Coast Guard Auxiliary instructor, an EMT, a volunteer firefighter, and a policeman. In his off hours, he's excelled as an advanced SCUBA diver, paratrooper, sailor, and skier. He once spent a year living in a cave and eating bugs—for fun! He's written extensively for Outdoor Life and a number of other outdoor adventure and automotive magazines.

For over 110 years, Outdoor Life has provided outdoor and urban survival expertise to millions of readers. Their authors have written on everything from disaster preparedness to subsistence hunting and fishing, to which guns to use against the undead (really!). Readers count on them for survival information from the everyday (how do I best bandage a bad cut) to the extreme (what if my town is devastated by a tornado?).