Duke the Halls: A collection of six seasonal novellas (Paperback)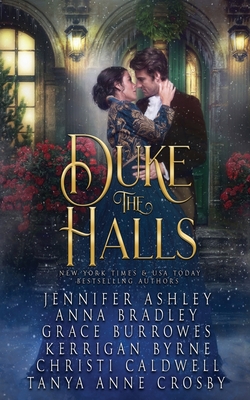 $17.99
Email or call for price
Description
---
From six beloved writers-Jennifer Ashley, Anna Bradley, Grace Burrowes, Kerrigan Byrne, Christi Caldwell and Tanya Anne Crosby-come six Christmas stories that will warm up your holiday, and put a twinkle in your eyes.
A First-Footer for Lady Jane by Jennifer Ashley
When Grandfather MacDonald predicts Lady Jane will marry this year's First-Footer-the first guest into the house on Hogmanay-she dismisses the notion. Her childhood sweetheart is fighting on the Peninsula, and she can't imagine marrying anyone but the staid Major Barnett. But when the clock strikes midnight, and Hogmanay begins, a knock at the front door changes Jane's life forever.
Then in a Twinkling by Anna Bradley
An escapade, a caper, an outrageous Christmas courtship...Oliver Angel will do whatever it takes to win the heart of his chosen lady. The first time he met Dinah Bishop she turned her pistol on him, but instead of his head, Dinah's ball struck the softest part of his heart. Oliver is determined to make Dinah his own, but there's one small problem... Dinah Bishop doesn't believe in love.
The Marquess of Mistletoe by Grace Burrowes
He left her standing in the cold... She sent him off to war.
Leo Drake was all set to share his future with the lady of his dreams, when he was told Marielle had changed her mind. Bewildered and heartbroken, he joined the army and sailed for Spain. It's ten years later, and fate has thrown Leo and Marielle together on Christmas night. Will they say farewell for all time, or let the magic of the holidays rejoin their hearts?
Making Merry by Kerrigan Byrne
Sprightly Victorian spinster, Vanessa Latimer, is stranded for the holidays in the Scottish Highlands by a relentless winter blizzard. She takes refuge at a centuries-old inn where the only available room is haunted by the ghost of a warrior who fell at Culloden Moor. One who refuses to give up his side of the bed.
A Marquess for Christmas by Christi Caldwell
Lady Patrina Tidemore gave up on the ridiculous notion of true love after having her heart shattered and her trust destroyed by a black-hearted cad. Used as a pawn in a game of revenge against her brother, Patrina returns to London from a failed elopement with a tattered reputation. The last thing she's interested in is falling in love. But it is Christmas, and after a chance encounter with a vexing, but entrancing widower in Hyde Park, Patrina begins to think anything is possible.
The Art of Kissing Beneath the Mistletoe by Tanya Anne Crosby
Alexandra Grace Huntington once believed in fairy tales. She oohed and ahed over gowns from Courtauld's, never wore black lest in mourning, always minded her social graces, and never, ever indulged her inner bluestocking. Now her world has come crashing down and she's alone for the holidays-no siblings, no parents, no friends, and not one shred of pride remaining. When she's unexpectedly invited to celebrate one last holiday with her dearest friend, she can't accept quickly enough... only how did one comport oneself after one's father has attempted to ruin the one man she's loved all her life?
This is a limited-time, special box set. All these novellas were previously published, but never together in a box set. Enjoy