Always with Me: The Guide to Grieving Death Through Integrative Medicine (Paperback)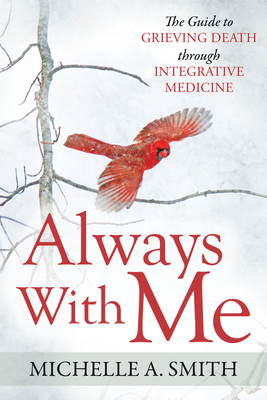 $9.95

Usually Ships in 3-5 Days
Description
---
Always With Me guides those who have lost a loved one how to discover happiness once again.
Losing a loved one to death, especially after a long-term relationship, can be exceedingly painful. The intense emotions can feel overwhelming and even paralyzing at times. The joy one once felt seems to be gone and impossible to recover. The days are dark, and the nights are even darker. Always With Me works to show those who have lost a loved one that there is a light shining at the end of pain.
In Always with Me, Michelle A. Smith, yoga therapist and energy worker, shows those who have lost a loved one how to journey back to happiness and connection once again. Using her years of training and experience in the field of integrative medicine, Michelle shows readers how to:
Use the various tools of integrative medicine to know that they are not alone Use physical postures, breath work, and meditation practices to find happiness after loss Embrace the power of Reiki or physical touch to feel more connected to everyone Immerse themselves in the healing sounds and vibrations of the Tibetan singing bowls to shift into a new space of happiness and peace Find peace within what is going on around the.