Volodymyr Zelensky in His Own Words (Hardcover)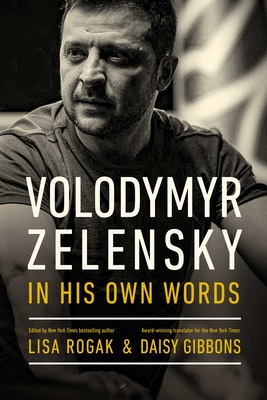 $28.00

Usually Ships in 3-5 Days
Description
---
An intimate look at the awe-inspiring president of Ukraine—Volodymyr Zelensky, the new hero of the West—through an expansive book of his quotations covering his stance on a wide variety of issues, from acting and climate change to war and peace.

Since Russia invaded Ukraine, people all over the world have reacted with horror and revulsion. At the same time, they have been heartened by the inspirational words and courageous actions of Volodymyr Zelensky, the 44-year-old President of Ukraine, who frequently reassures his beleaguered people while standing up to an autocratic madman who possesses the power to launch a nuclear holocaust.

Zelensky is the hero we didn't know we needed—or maybe we did. Right now, the world wants to know more about Ukraine's heroic and inspiring president, and the best way to do that will be with Volodymyr Zelensky in His Own Words, an expansive book of quotations that covers Zelensky's words and opinions on a wide spectrum of issues—from war and peace to climate change and LGTBQ rights.

Readers will be able to open up the book to any page and see where Zelensky stands. Given his previous life as a comedian and Ukraine's most famous actor, there are plenty of quotes that provide a more nuanced picture of this man who has enthralled and inspired people around the world.
About the Author
---
Lisa Rogak is the author of more than forty books, including her New York Times bestseller Barack Obama in His Own Words. Her other works include Angry Optimist: The Life and Times of Jon Stewart; The Dogs of War; And Nothing But the Truthiness: The Rise (and Further Rise) of Stephen Colbert; Rachel Maddow: A Biography; and Haunted Heart: The Life and Times of Stephen King, which was nominated for an Edgar Award and an Anthony Award. Her books have been covered in the Wall Street Journal, Parade Magazine, USA Today, Family Circle, and scores of other publications. She appeared on The Oprah Winfrey Show as the featured guest to promote her book Moving to the Country Once and For All.

Daisy Gibbons, an award-winning translator from Ukrainian and Russian into English, presently serves as a translator for the New York Times and as a literature consultant for Netflix. She lived in Russian and Ukraine for several years, where she worked as a ghostwriter for several Ukrainian publications and as an editor for a Kyiv think tank. Gibbons attended the University of Cambridge and the State University of Nizhny Novgorod, Russia. She lives in London.
Praise For…
---
Praise for Lisa Rogak:

"Pleasant and thoroughly researched."
— Publishers Weekly

"Thoughtfully explores how Maddow became the legend she is today."
— BookRiot

"Exceptionally well researched, written, organized and presented, Rachel Maddow is an impressively informative biography and unreservedly recommended."
— Midwest Book Review

"Rogak creates a compelling biography. Rachel Maddow is an affectionate portrait of its subject."
— Philadelphia Gay News

"Including both humorous and serious insights from colleagues, Rogak presents a detailed picture of the Comedy Central show, revealing exhausting writing schedules, dogs in the office, and people who aren't particularly enamored with the host. An inside look at the man who changed the face of comedy talk shows."
— Shelf Awareness

"Haunted Heart is a thoroughly respectful overview of King's life, and a great starter biography for new fans."
— The Boston Globe

"The biographer is smart in sticking with the man himself. She looks at what scares King enough that he's been able to keep readers entertained for thirty years. Rogak does an admirable job pulling together materials from disparate sources into a readable whole."
— Bangor Daily News

"Rogue has pieced together King's sometimes erratic life scrupulously into a clean, swift read."
— The Times (London)

"Dogs jumping from airplanes, dogs sacrificing their lives to save their handlers, dogs patrolling dense tropical jungles?such heroics may seem the stuff of animation fantasy, but Lisa Rogak's The Dogs of War documents the real-life valor of canine warriors. Rogak is to be commended for the book's encyclopedic scope and rich historical detail."
— The Washington Post

"Rogak's The Dogs of War sheds light on why the dog, more than any other animal, holds a special place in our history, and our hearts. The most comprehensive book I have ever read on the subject of military dogs, it exemplifies the indomitable spirit of the dog itself, ever selfless, loyal to a fault."
— Steve Duno, author of Last Dog on the Hill

"Canine heroism is eloquently celebrated in Lisa Rogak's The Dogs of War."
— Hudson Valley News

"Most of the accounts in this book will bring tears to your eyes."
— The Macon Telegraph