All My Migraine Shit: Headache Journal - Daily Tracker for Pain Management, Log Chronic Pain Symptoms, Record Doctor and Medical Treatment (Paperback)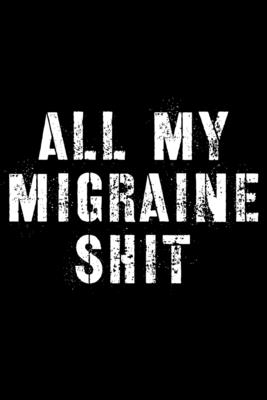 Description
---
How to use this Migraine Tracker:
This useful migraine tracker journal planner is a must-have for anyone suffering from chronic headaches You will love this easy to use journal to track and record all your headache activities.
Each interior page includes space to record & track the following:
Date - Date of the onset of headache event.
Location - Use the box provided to write in the location, whether a sinus, tension, cluster, or other location.
Time - Stay on task using the box to fill the time it started, ended, and how long the headache lasted.
Pain Level - Record and track the level of pain using this 1-10 rating.
Triggers - Write a list of what triggered your migraine, and what relief measures work for you.
Additional Notes - Space to write additional thoughts and ideas.
If you are new to the world of migraines or have been at it for a while, this migraine tracker notebook is a must have Can make a great useful gift for anyone that suffers from migraine headaches
Bless