Harley-Davidson XR-750 (Paperback)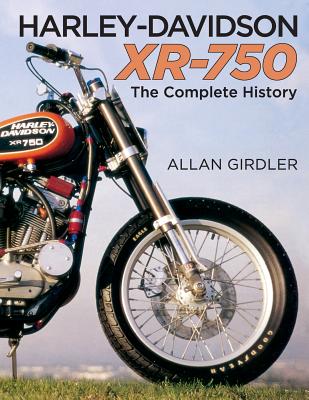 $24.95

Usually Ships in 3-5 Days
Description
---
Harley-Davidson's XR-750 has ruled dirt-track racing for more than two decades. In fact, no other race car or motorcycle has won as many races over such a long time period. And the victories continue today.
This is the story of the legendary XR-750 from its development in 1970, when it was created to replace the aging KR. The first XRs used iron cylinder heads and barrels-and were painfully slow. By 1972, the motorcycles were redesigned with aluminum heads and barrels, and the XR-750 took home the trophies.
Found here is the development of the XR-750 with a technical analysis of the complete motorcycle, detailing specifications, modifications, innovations, and aftermarket components.
This is also the story of the men who designed, tuned and raced the XR-750. It was their engineering skill, iron-willed riding and tuning secrets that made the motorcycle a winner. The ranks include Jay Springsteen, Dick O'Brien, Bill Werner, Scott Parker, Cal Rayborn, Mert Lawwill, the Brelsford brothers, Gary Scott, Ricky Graham, and more.
The book is divided into three parts, the motorcycle's development, the season-by-season race championships, and how the pros make the bikes go-and go fast. More than 300 photos tell the inside story of the XR-750 on the dirt track, the XR-750 and XR-1000 on the street and XRTT on the road-race circuits.
Allan Girdler writes of the Harley-Davidson XR-750 with passion, enthusiasm and firsthand experience. He brings his straight-talking technical writing and colorful story-telling to the history of the XR-750. Girdler is a former Cycle World editor and author of many books including Harley-Davidson Racing 1934-1986 and Harley-Davidson Sportster.
Readers interested in related titles from Allan Girdler will also want to see: American Road Race Specials, 1934-70 (ISBN: 1626549338), Harley Davidson Sportster (ISBN: 1626549354), Harley-Davidson Racing, 1934-1986 (ISBN: 162654932X ).