The CBT Anxiety Solution Workbook: A Breakthrough Treatment for Overcoming Fear, Worry, and Panic (Paperback)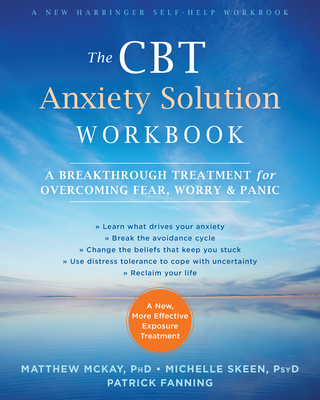 $26.95
Email or call for price
Description
---
You are stronger than your anxiety In this important workbook, best-selling authors Matthew McKay, Patrick Fanning, and Michelle Skeen offer a breakthrough anxiety solution based in cognitive behavioral therapy (CBT) to help you understand and overcome your fears and worries, rather than try to avoid them.
If you suffer from an anxiety disorder, you may try to avoid situations that cause you to feel worry, fear, or panic. You may even believe that terrible things will happen to you if you face the things that make you anxious. But avoidance isn't a long-term solution, and in the end it may result in more anxiety. This book shows you how the simple belief that you can endure your worries and fears--both mentally and physically--can be an extremely powerful treatment.
Using a breakthrough approach combining proven-effective CBT and exposure therapy, this workbook helps you understand how worry and rumination drive anxiety, and offers practical exercises to help you adopt new habits of observing your thoughts, rather than accepting them as the "ultimate truth." You'll also develop mindfulness and self-soothing coping skills to help you manage anxiety in the moment, rather than avoid it. Over time these practices will show you that you are more powerful than your anxiety.
If you've been stuck in a cycle of anxiety and avoidance, this workbook will help you make the changes you need to get your life back.
This book has been selected as an
Association for Behavioral and Cognitive Therapies Self-Help Book Recommendation
--an honor bestowed on outstanding self-help books that are consistent with cognitive behavioral therapy (CBT) principles and that incorporate scientifically tested strategies for overcoming mental health difficulties. Used alone or in conjunction with therapy, our books offer powerful tools readers can use to jump-start changes in their lives.
About the Author
---
Matthew McKay, PhD, is a professor at the Wright Institute in Berkeley, CA. He has authored and coauthored numerous books, including The Relaxation and Stress Reduction Workbook, Self-Esteem, Thoughts and Feelings, When Anger Hurts, and ACT on Life Not on Anger. McKay received his PhD in clinical psychology from the California School of Professional Psychology, and specializes in the cognitive behavioral treatment of anxiety and depression. He lives and works in the greater San Francisco Bay Area. Michelle Skeen, PsyD, is a therapist who lives and works in San Francisco, CA. She helps individuals overcome fear-based beliefs utilizing schema awareness, self-compassion, and behavioral- and mindfulness-based approaches. She is author of Love Me, Don't Leave Me and coauthor of Communication Skills for Teens. Skeen hosts a weekly radio show called Relationships 2.0 with Dr. Michelle Skeen. To find out more, visit her website at www.michelleskeen.com. Patrick Fanning is a professional writer in the mental health field, and founder of a men's support group in Northern California. He has authored and coauthored eight self-help books, including Self-Esteem, Thoughts and Feelings, Couple Skills, and Mind and Emotions.