Child and Adolescent Clinical Psychopharmacology Made Simple (Paperback)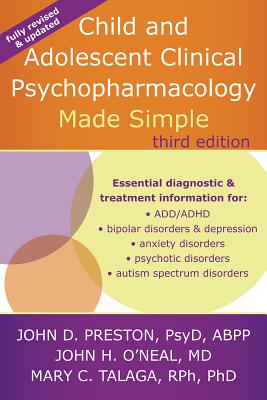 Description
---
Child and Adolescent Clinical Psychopharmacology Made Simple offers everything you need to know about the use of psychoactive medications in the treatment of childhood and adolescent psychological disorders in easy-to-understand language.
This fully revised third edition offers updated DSM-V definitions, new information regarding teen use of antidepressants and suicidality, information on attention deficit/hyperactivity disorder (ADHD) and ADHD medications, bipolar disorder, psychotic episodes and eating disorders in children and adolescents, the use of antipsychotics in children and adolescents, non-medication approaches and adjuncts to medications, and how to assess and treat noncompliance and breakthrough symptoms.
Also included are fact sheets that clearly delineate frequently prescribed medications for each disorder along with medication side effects and signs of toxicity. For each psychological disorder, the book offers: current diagnostic criteria; treatment indications and contraindications; medication information; and help for monitoring, evaluating, and following up with patients.
Whether you are a pediatrician, parent, therapist, educator, or other health care professional, this is the only resource you need to consult for the most up-to-date information on child and adolescent medications and treatment.
About the Author
---
John D. Preston, PsyD, ABPP, is professor emeritus at Alliant International University in Sacramento, CA, and has also served on the faculty of the University of California, Davis, School of Medicine and the Professional School of Psychology, San Francisco. He has authored twenty-one books in the areas of psychotherapy, neurobiology, and psychopharmacology, and coauthored Clinical Psychopharmacology Made Ridiculously Simple, Consumer's Guide to Psychiatric Drugs, and Handbook of Clinical Psychopharmacology for Therapists. Preston is a fellow of the American Psychological Association and has lectured internationally. John H. O'Neal, MD, is a board-certified psychiatrist in private practice for over twenty-five years and assistant clinical professor in the department of psychiatry at the University of California, Davis, School of Medicine. He is past chief of the Department of Psychiatry at Sutter Community Hospitals in Sacramento, CA. O'Neal is a Distinguished Fellow of the American Psychiatric Association (APA), and lectures on depression and psychopharmacology to mental health professionals, self-help organizations, and the public. He is coauthor of Handbook of Clinical Psychopharmacology for Therapists. Mary C. Talaga, RPh, PhD, has been a pharmacist for over thirty years, with specialization in psychiatric pharmacy and pharmacy administration. Talaga has practiced in a variety of clinical settings. She is coauthor of Handbook of Clinical Psychopharmacology for Therapists.