Conscious Capitalism: Liberating the Heroic Spirit of Business (CD-Audio)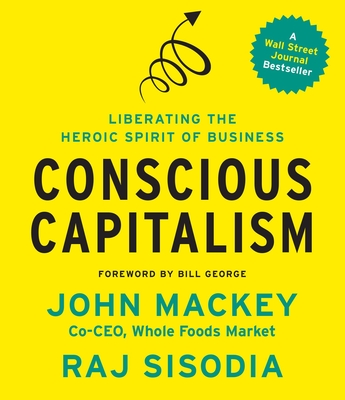 $34.95
Email or call for price
Description
---
In this New York Times and Wall Street Journal bestseller, Whole Foods Market cofounder John Mackey and professor and Conscious Capitalism, Inc. cofounder Raj Sisodia argue for the inherent good of both business and capitalism. Featuring some of today's best-known and most successful companies, they illustrate how these two forces can—and do—work most powerfully to create value for all stakeholders, including customers, employees, suppliers, investors, society, and the environment.

Conscious Capitalism helps us better understand how companies such as Southwest Airlines, Costco, UPS, Panera, Patagonia, Google, The Container Store, and many others, use four specific tenets—higher purpose, stakeholder integration, conscious leadership, and conscious culture and management—to build strong businesses, advance capitalism toward its highest potential, and foster a more positive environment for all of us.
About the Author
---
JOHN MACKEY is co-CEO and cofounder of Whole Foods Market and cofounder of the nonprofit Conscious Capitalism, Inc. He has devoted his life to selling natural and organic foods and to building a better business model.
DR. RAJENDRA (RAJ) SISODIA Sisodia is cofounder and trustee of Conscious Capitalism, Inc. and professor of marketing at Bentley University. He is the author of several books.
BILL GEORGE is Professor of Management Practice at Harvard Business School, where he has taught leadership since 2004, and the former Chair and Chief Executive Officer of Medtronic. He is the author of several bestselling books.
AudioFile Golden Voice GROVER GARDNER is a published author and a narrator of many children's, young adult, and adult audiobooks.