Fries!: An Illustrated Guide to the World's Favorite Food (Hardcover)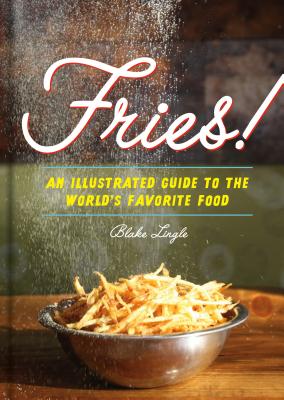 $16.95
Email or call for price.
Description
---
Imagine a plate of crisp, golden, salted fries, and you'll know why this is the world's favorite food. Who better to write the consummate cultural history and user's guide of the fry than Blake Lingle, whose fries were recently voted the best in America by U.S. News & World Report? In this lighthearted ode, Lingle offers a 360-degree look at fries, from their roots in antiquity, to the long-standing debate as to whether the Belgians or the French created the first true frites, to their current status as a gourmet treat (whether dusted with truffle salt or slathered in gravy and cheese curds in that outrageous Canadian delicacy, poutine).

The pop culture and lore of fries includes a look inside a potato farm and fry factory. Lingle catalogs the many varieties—of shapes, oils, vegetables, coatings, seasonings, sauces, and pairings—describing what to eat and drink with your fries. Detailed instructions are given for how to cut, fry, and serve your own Platonic ideal of the fry. Additional fry know-how is combined with archival images and new color photography to showcase the glorious tastiness of fries, in this ideal gift for anyone who can't get enough of the world's favorite food.
About the Author
---
Blake Lingle is the cofounder and co-owner of the Boise Fry Company, headquartered in the heart of potato country: Boise, Idaho.
Praise For…
---
"The book, due out this month, dishes up everything from unexpected history lessons (the fry may not be as French as we thought) to pairing notes (truffle shoestring Kennebec fries are best served with beef tartare and a cocoa martini). But perhaps the best part is that in the book's final pages, Lingle dispels the myth - his word! - that this beloved snack is unhealthy." - American Way

"This charming pocket-sized history of America's favorite side dish is as addictive as, well, a plate of hot salty fries." - Entertainment Weekly

"...this tiny but information-packed book contains pretty much everything one needs to know about those beautiful, slender, crunchy beams of sunshine." - Tasting Table

"Blake Lingle's cozy new book, "Fries! An Illustrated Guide to the World's Favorite Food," is here to have some fun with everyone's favorite vegetable." - Chicago Tribune, Printers Row