Lone Wolf and Cub Omnibus Volume 2 (Paperback)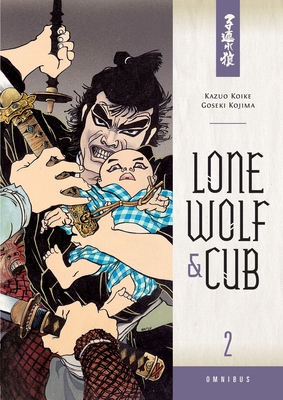 $24.99

Usually Ships in 3-5 Days
Other Books in Series
This is book number 2 in the Lone Wolf and Cub Omnibus series.
Description
---
Ronin samurai Ogami Itto and his young son Daigoro travel a dark road, beset by enemies sworn to destroy the Lone Wolf and his Cub. But how did Ogami, once the shogun's loyal retainer and trusted executioner, become a dishonored fugitive marked for death by the shogun himself? What hidden forces moved to destroy Ogami's family and fuel his relentless quest for retribution?

Lone Wolf and Cub has sold over a million copies of its first Dark Horse English-language editions, and this acclaimed masterpiece of graphic fiction is now available in larger format, value-priced editions.
About the Author
---
Kazuo Koike is a prolific Japanese manga writer, novelist, and entrepreneur. Early in Koike's career, he studied under Golgo 13 creator Takao Saito and served as a writer on the series. Koike, along with artist Goseki Kojima, made the manga Kozure Okami (Lone Wolf and Cub), and Koike also contributed to the scripts for the 1970s film adaptations of the series, which starred famous Japanese actor Tomisaburo Wakayama. Another series written by Koike, Crying Freeman, which was illustrated by Ryoichi Ikegami, was adapted into a 1995 live-action film by French director Christophe Gans.

Goseki Kojima was a Japanese manga artist known for his collaborations with Kazuo Koike. The team was often referred to as the "Golden Duo." Kojima's best-known work was Lone Wolf and Cub. Other titles attributed to Kojima are Samurai Executioner and Path of the Assassin. In 2004, Kojima won an Eisner Award.