The Backyard Homestead Seasonal Planner: What to Do & When to Do It in the Garden, Orchard, Barn, Pasture & Equipment Shed (Spiral bound)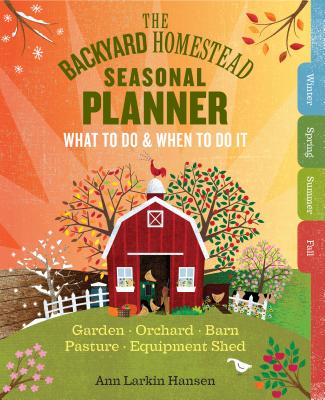 $18.95

Should Be On Our Shelves Now
Description
---
This hardworking addition to the best-selling Backyard Homestead series offers expert advice on what tasks to do around your farm and when to do them — no matter where on the planet you call home. Author Ann Larkin Hansen sets the priorities for each area of the farm, including the barn, garden, orchard, field, pasture, and woodlot. For every critical turn of the year (12 in all), Hansen provides an at-a-glance to-do list along with tips and a more in-depth discussion of key topics for the season. Easy-reference charts, checklists, and record-keeping sections help you keep track of it all.

Also available in this series: The Backyard Homestead, The Backyard Homestead Book of Building Projects, The Backyard Homestead Guide to Raising Farm Animals, and The Backyard Homestead Book of Kitchen Know-How.
About the Author
---
Ann Larkin Hansen is the author of The Backyard Homestead Seasonal Planner, The Organic Farming Manual, The Electric Fencing Handbook, Finding Good Farmland, and Making Hay; coauthor of A Landowner's Guide to Managing Your Woods with consulting forester Dennis Waterman and master logger Mike Severson; and coauthor with her husband, Steve, of Maintaining Small-Farm Equipment. She has been a journalist for more than 30 years, specializing in organic agriculture and sustainable forestry. A homesteader and a small-scale organic farmer, she lives with her family on a farm in northern Wisconsin.