Yoga Myths: What You Need to Learn and Unlearn for a Safe and Healthy Yoga Practice (Paperback)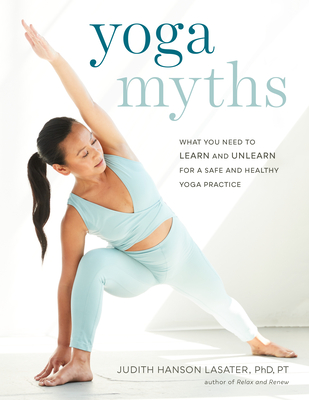 $26.95

Should Be On Our Shelves Now
Description
---
The essential guide to correcting yoga misconceptions and avoiding injuries in your practice from Judith Hanson Lasater, a yoga instructor, physical therapist, and bodywork expert.

"Tuck your tailbone to protect your back." "Increase your breath." "Pull your abdominal muscles into your backbone." Following these movement cues is often believed to benefit your yoga practice and protect your body when entering and holding poses. However, what may seem like a helpful correction can actually lead to injury or physical harm.

In Yoga Myths, Judith Hanson Lasater draws on almost fifty years of experience as a yoga instructor and physical therapist to address the most common mistakes in our yoga practice and provide clear instructions for correcting these errors. Focusing on the eleven "myths" most detrimental to our practice, Lasater provides a comprehensive discussion of what the myth is, why it can hurt us, and how we can avoid it through step-by-step instructions and guiding photos. This book will allow you to return to the inherent wisdom, natural goodness, and spiritual wholeness of yoga and avoid life altering injuries for as long as you practice.
About the Author
---
JUDITH HANSON LASATER has taught yoga since 1971. She holds a doctorate in East-West psychology and is a physical therapist. Dr. Lasater is the president emeritus of the California Yoga Teachers Association, and is one of the founders of Yoga Journal magazine.

She trains yoga teachers in asana, kinesiology, yoga therapeutics, and the Yoga Sutras, and she leads workshops and retreats throughout the US and abroad. She is a pioneer in the teaching and practice of Restorative yoga.

Dr. Lasater writes extensively about yoga. Her feature articles, columns, and essays appear in numerous books, magazines, and anthologies. She is the author of ten books on yoga, including Relax and Renew, Restore and Rebalance, Yogabody, 30 Essential Yoga Poses, Living Your Yoga, among others.
Praise For…
---
"Yoga Myths is a breath of intelligence and fresh air in a field that is expanding so quickly that tradition, compassionate inquiry, and real communication sometimes slip away. Judith Hanson Lasater reminds us that we can hold too tightly to a simplistic instruction that might work well in one context, but which can then cause injury and imbalance in other contexts. She carefully teaches us the anatomy, physiology, mechanics, and—most wonderfully—the beauty and joy of the practice of yoga itself."—Richard Freeman, author of The Mirror of Yoga
 
"Why am I recommending this book? Simple. After my forty years of practice, Judith Hanson Lasater—who's already taught me so much over the years—still surprises me with her knowledge about yoga in particular, and life in general. An instant classic from one of our most complete teachers."—Richard Rosen, author of Yoga of Breath

"To all those ready to get serious about safety, longevity, and freedom in both their bodies and their yoga practices, look no further. Judith Hanson Lasater offers sound anatomical wisdom from her lifetime of practice and teaching. There is a wealth of essential, practical information to be savored in this book, one I will cherish for years to come."—Amy Ippoliti, author of The Art and Business of Teaching Yoga

"This wise and detailed guidebook (accompanied by black-and-white photos) will help students and teachers alike to remember to listen to their bodies and practice yoga with awareness."—Publishers Weekly