The Thriving Adolescent: Using Acceptance and Commitment Therapy and Positive Psychology to Help Teens Manage Emotions, Achieve Goals, and Buil (Paperback)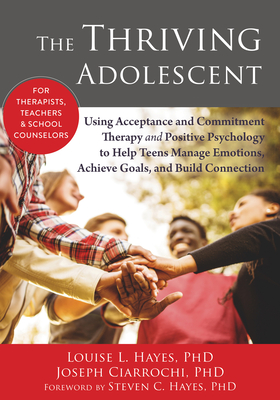 $59.95

Usually Ships in 3-5 Days
Description
---
Adolescents face unique pressures and worries. Will they pass high school? Should they go to college? Will they find love? And what ways do they want to act in the world? The uncertainty surrounding the future can be overwhelming. Sadly, and all too often, if things don't go smoothly, adolescents will begin labeling themselves as losers, unpopular, unattractive, weird, or dumb. And, let's not forget the ubiquitous 'not good enough' story that often begins during these formative years. These labels are often carried forward throughout life. So what can you do, now, to help lighten this lifelong burden?
The Thriving Adolescent offers teachers, counselors, and mental health professionals powerful techniques for working with adolescents. Based in proven- effective acceptance and commitment therapy (ACT), the skills and tips outlined in this book will help adolescents and teens manage difficult emotions, connect with their values, achieve mindfulness and vitality, and develop positive relationships with friends and family. The evidence-based practices in this book focus on developing a strong sense of self, and will give adolescents the confidence they need to make that difficult transition into adulthood.
Whether it's school, family, or friend related, adolescents experience a profound level of stress, and often they lack the psychological tools to deal with stress in productive ways. The skills we impart to them now will help set the stage for a happy, healthy adulthood. If you work with adolescents or teens, this is a must-have addition to your professional library.
About the Author
---
Louise L. Hayes, PhD, is an international ACT trainer and speaker; she is also a clinical psychologist, and researcher with the University of Melbourne and Orygen, The National Centre of Excellence in Youth Mental Health in Australia. She has published research trials using ACT for young people, and is coauthor of Get Out of Your Mind and Into Your Life for Teens. She is dedicated to helping young people and their families live well. Joseph Ciarrochi, PhD, is a professor at the Institute of Positive Psychology and Education at the Australian Catholic University, and coauthor of Get Out of Your Mind and Into Your Life for Teens. He has published over 100 scientific journal articles and many books, including the widely acclaimed Emotional Intelligence in Everyday Life and Mindfulness, Acceptance, and Positive Psychology. He has been honored with over four million dollars in research funding. His work has been discussed on TV and radio, and in magazines and newspaper articles. Foreword writer Steven C. Hayes, PhD, is Foundation Professor of Psychology at the University of Nevada, Reno. He is author of Get Out of Your Mind and Into Your Life.