Learning to Breathe: A Mindfulness Curriculum for Adolescents to Cultivate Emotion Regulation, Attention, and Performance (Paperback)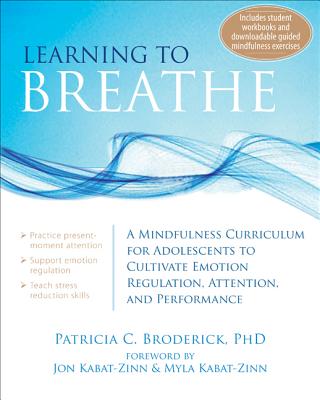 Description
---
Disruptive behavior in the classroom, poor academic performance, out-of-control emotions: if you work with adolescents, you are well-aware of the challenges this age group presents. What if there was a way to calm these students down and arm them with the mindfulness skills needed to really excel in school and life?
Written by mindfulness expert and licensed clinical psychologist Patricia C. Broderick, Learning to Breatheis a secular program that tailors the teaching of mindfulness to the developmental needs of adolescents to help them understand their thoughts and feelings and manage distressing emotions. Students will be empowered by learning important mindfulness meditation skills that help them improve emotion regulation, reduce stress, improve overall performance, and, perhaps most importantly, develop their attention. The book also includes a website link with student handouts and homework assignments, making it an ideal classroom tool.
The book integrates certain themes of mindfulness-based stress reduction (MBSR), developed by Jon Kabat-Zinn, into a program that is shorter, more accessible to students, and compatible with school curricula. Students will learn to pay attention in the moment, manage emotions as they are perceived, and gain greater control over their own feelings and actions. These mindfulness practices offer the opportunity to develop hardiness in the face of uncomfortable feelings that otherwise might provoke a response that could be harmful (e.g. acting out by taking drugs, displaying violent behavior or acting in by becoming more depressed).
This easy-to-use manual is designed to be used by teachers, but can also be used by any mental health provider teaching adolescents emotion regulation, stress reduction and mindfulness skills. The author is a graduate of the MBSR advanced practicum at the Center for Mindfulness in Massachusetts, led by Jon Kabat-Zinn. She is also a clinical psychologist and a certified school psychologist and counselor for grades K-12. In the book, Broderick calls on her years of experience working with adolescents to outline the best strategies for dealing with disruption in the classroom and emotions that are out of hand.
The book is structured around six themes built upon the acronym BREATHE, and each theme has a core message. The program allows for themes to be delivered in 6 longer or 18 shorter sessions, depending upon time and needs of students. The 6 core lessons are: Body, Reflection, Emotions, Attention, Tenderness, and Healthy Mind Habits.
Learning to Breathe is the perfect tool for empowering students as they grapple with the psychological tasks of adolescence.
About the Author
---
Patricia C. Broderick, PhD, is a research associate at the Prevention Research Center for the Promotion of Human Development at Penn State University and founder of the Stress Reduction Center at West Chester University of Pennsylvania. A graduate of the mindfulness-based stress reduction advanced practicum at the Center for Mindfulness at the University of Massachusetts Medical School, Broderick is a licensed clinical psychologist as well as a certified school psychologist and counselor for grades K through 12. In addition, she is the author of The Life Span: Human Development for Helping Professionals, a textbook for graduate-level students and mental health professionals. Foreword writer Myla Kabat-Zinn, RN, BSN, spent a number of years assisting at births both in the hospital and at home. During those years she also taught childbirth education classes based on mindful awareness. She is the coauthor, with her husband Jon, of Everyday Blessings: The Inner Work of Mindful Parenting. She has lead workshops on mindful parenting in the US and in Europe.Foreword writer Jon Kabat-Zinn, PhD, is internationally known for his work as a scientist, writer, and meditation teacher engaged in bringing mindfulness into the mainstream of medicine and society. He is professor of medicine emeritus at the University of Massachusetts Medical School and author of numerous books, including Full Catastrophe Living, Arriving at Your Own Door, and Coming to Our Senses.