Walt Disney's Mickey Mouse Gift Box Set: "Rise Of The Rhyming Man"  and "Planet Of Faceless Foes": Vols. 9 & 10 (Hardcover)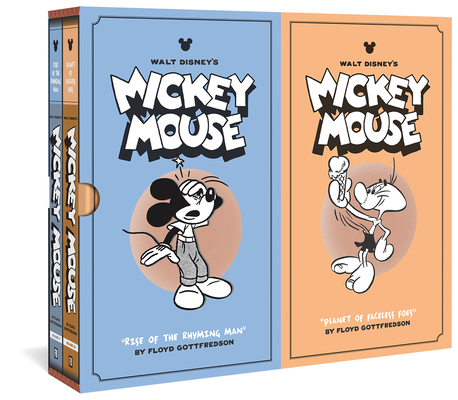 $49.99
Email or call for price
Description
---
Budget gift set including volumes 9 & 10 of Floyd Gottfredson's Mickey Mouse.
In Vol. 9 Mickey and Eega team up to save Mouseton from the Rhyming Man... a poetic master spy with an arsenal of chemical weapons! In Vol. 10, Astronauts Mickey and Eega Beeva find "Be-Junior," a planet beyond the moon! Back on Earth, modern relatives of Cinderella's Gus and Jaq need Mickey's help in "Mousepotamia"... and Pegleg Pete has become an Iron Curtain spy!
About the Author
---
Hired as a short-term replacement on the fledgling Mickey Mouse daily strip in 1930, Floyd Gottfredson (1905–1986) went on to draw the feature for the next 45 years. He created the most famous Mickey tales ever told in print. He is a Disney Legend and was inducted into the Will Eisner Award Hall of Fame in 2006.

David Gerstein is an animation and comics researcher, writer, and editor best known for his work with The Walt Disney Company and its licensees. His published projects include Uncle Scrooge and Donald Duck: The Don Rosa Library (Fantagraphics, 2014-2018) and Mickey Mouse: The Ultimate History (with J.B. Kaufman; Taschen, 2018). He lives in North Carolina.