Gardening Under Lights: The Complete Guide for Indoor Growers (Hardcover)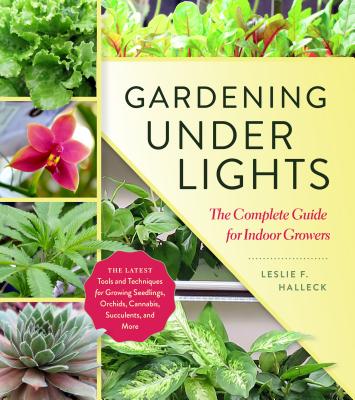 $29.95

Usually Ships in 3-5 Days
Description
---
"If you want to grow plants indoors, you need this book." —Niki Jabbour, author and staff writer at savvygardening.com

Gardening Under Lights is a highly-detailed, accessible guide for seed starters, plant collectors, houseplant fans, and anyone who wants to successfully garden indoors any time of the year. You'll learn the basics of photosynthesis, the science of light, how to accurately measure how much light a plant needs, and details about the most up-to-date tools and gear available. Also included are tips and techniques for helping ornamental plants (like orchids, succulents, bonsai, and more) and edible plants (arugula, cannabis, oregano, tomatoes, and more) thrive indoors. Whether you are a vegetable gardener who wants to extend the growing season, a balcony gardener short on outdoor space, or a specialty plant collector, Gardening Under Lights is a must-have.
 
About the Author
---
Leslie F. Halleck is a dedicated horticulturist with a master's in horticulture from Michigan State University. She is a Certified Professional Horticulturist (CPH) via The American Society for Horticulture Science, with more than 25 years of green industry experience in research, greenhouse production, public gardens, garden center retail, landscape and design services, and gardening communications. Her work has been published in many scientific, industry, and consumer horticulture publications such as Fine Gardening, Greenhouse Management Magazine, and more. She currently runs Halleck Horticultural, LLC, a company that provides consulting services to green industry businesses, as well as horticultural consulting.
Praise For…
---
"This scientifically grounded yet accessible book is an essential guide to just about anything we might want to grow indoors." —Kelly Norris, director of horticulture and education at Greater Des Moines Botanical Garden

"This book nails it! Everything from breathtaking yet practical ways to grow your own food to basic starts for your indoor or outdoor garden." —Bren Haas, founder of Creative Living with Bren Haas and host of GardenChat

"If you want to grow plants indoors, you need this book." —Niki Jabbour, author and host of "The Weekend Gardener"

"Redefines how we approach growing plants in any indoor environment." —Brie Arthur, author and horticulturist

"If you are a plant enthusiast, this is a must-read and will become an indispensable resource." —Shawna Coronado, author, gardener, and wellness lifestyle advocate

"Halleck writes engagingly for those with more than a passing interest in indoor gardening." —Booklist

"Gardening Under Lights is a wonderful introduction to growing indoors. . .  appropriate both for readers who want to know what lights to find to make a few more houseplants happy, and for readers who envision a more industrial production, Gardening Under Lights is a timely and very useful new book." —NYBG's Plant Talk 

"Explains all you need to know to grow almost anything indoors under lights. . . . Halleck will tell you what you need to be successful at indoor gardening." —Garden Design

"Get ready for knowledge bomb after knowledge bomb in this one, plant friends." —Bloom and Grow Radio 

"The definitive primer on indoor gardening." —The Designer

"Whatever your skill level, Leslie's bright ideas will light up your indoor garden—no sun required." —Grower Talks

"If you are at all interested in gardening indoors, then this book is for you." —The Professional Gardener Magazine

"Perhaps the hardest subject for a garden enthusiast to tackle is indoor lighting. . . . Into the darkness of my ignorance has come Gardening Under Lights. . . . This book is the answer to the prayers of gardeners everywhere." —Southwest Gardening

"A really welcome book for those of us who haven't fully dipped our toes into the confusing world of artificial light for our plants." —On the Ledge

"Halleck's book walks readers through the basics and turns potentially confusing concepts into common knowledge. . . Gardening Under Lights doesn't just tell you how to have an aesthetically pleasing and successful indoor garden—it shows you." —Garden Center Magazine

"A detailed, accessible guide for seed starters, plant collectors, houseplant fans, and anyone who wants to successfully garden indoors any time of the year." —Michigan Gardener
 

"This scientifically grounded yet accessible book is an essential guide to just about anything we might want to grow indoors." —Kelly Norris, director of horticulture and education at Greater Des Moines Botanical Garden

"This book nails it! Everything from breathtaking yet practical ways to grow your own food to basic starts for your indoor or outdoor garden." —Bren Haas, founder of Creative Living with Bren Haas and host of GardenChat

"If you want to grow plants indoors, you need this book." —Niki Jabbour, author and host of "The Weekend Gardener"

"Redefines how we approach growing plants in any indoor environment." —Brie Arthur, author and horticulturist

"If you are a plant enthusiast, this is a must-read and will become an indispensable resource." —Shawna Coronado, author, gardener, and wellness lifestyle advocate

"Halleck writes engagingly for those with more than a passing interest in indoor gardening." —Booklist

"Gardening Under Lights is a wonderful introduction to growing indoors. . .  appropriate both for readers who want to know what lights to find to make a few more houseplants happy, and for readers who envision a more industrial production, Gardening Under Lights is a timely and very useful new book." —NYBG's Plant Talk 

"Explains all you need to know to grow almost anything indoors under lights. . . . Halleck will tell you what you need to be successful at indoor gardening." —Garden Design

"Get ready for knowledge bomb after knowledge bomb in this one, plant friends." —Bloom and Grow Radio 

"The definitive primer on indoor gardening." —The Designer

"Whatever your skill level, Leslie's bright ideas will light up your indoor garden—no sun required." —Grower Talks

"If you are at all interested in gardening indoors, then this book is for you." —The Professional Gardener Magazine

"Perhaps the hardest subject for a garden enthusiast to tackle is indoor lighting. . . . Into the darkness of my ignorance has come Gardening Under Lights. . . . This book is the answer to the prayers of gardeners everywhere." —Southwest Gardening

"A really welcome book for those of us who haven't fully dipped our toes into the confusing world of artificial light for our plants." —On the Ledge

"Halleck's book walks readers through the basics and turns potentially confusing concepts into common knowledge. . . Gardening Under Lights doesn't just tell you how to have an aesthetically pleasing and successful indoor garden—it shows you." —Garden Center Magazine

"A detailed, accessible guide for seed starters, plant collectors, houseplant fans, and anyone who wants to successfully garden indoors any time of the year." —Michigan Gardener