The Living Forest: A Visual Journey Into the Heart of the Woods (Hardcover)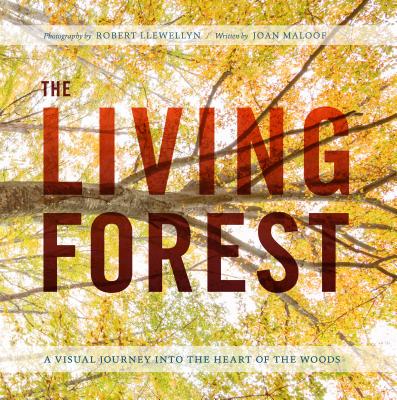 $40.00

Usually Ships in 3-5 Days
Description
---
"With precise, stunning photographs and a distinctly literary narrative that tells the story of the forest ecosystem along the way, The Living Forest is an invitation to join in the eloquence of seeing." —Sierra Magazine

From the leaves and branches of the canopy to the roots and soil of the understory, the forest is a complex, interconnected ecosystem filled with plants, birds, mammals, insects, and fungi. Some of it is easily discovered, but many parts remain difficult or impossible for the human eye to see. Until now. 

The Living Forest is a visual journey that immerses you deep into the woods. The wide-ranging photography by Robert Llewellyn celebrates the small and the large, the living and the dead, and the seen and the unseen. You'll discover close-up images of owls, hawks, and turtles; aerial photographs that show herons in flight; and time-lapse imagery that reveals the slow change of leaves. In an ideal blend of art and scholarship, the 300 awe-inspiring photographs are supported by lyrical essays from Joan Maloof detailing the science behind the wonder. 
About the Author
---
Robert Llewellyn has been photographing plants and landscapes for almost 40 years. His photographs have been featured in major art exhibits, and more than 30 books featuring his photography are in print. His 2007 book Empires of the Forest won five national awards in nonfiction and photography and The Capital was an official diplomatic gift of the White House and State Department.

Joan Maloof is a scientist, writer, and the founder and director of the Old-Growth Forest network, a nonprofit organization creating a network of forests across the US that will remain forever unlogged and open to the public. She studied plant science at the University of Delaware, environmental science at the University of Maryland Eastern Shore, and ecology at the University of Maryland College Park. 
 
Praise For…
---
"This celebration of forests' many layers of beauty is a gift for the senses, intellect, and emotions." —David George Haskell, author of The Songs of Trees and The Forest Unseen (Pulitzer finalist), professor of biology at University of the South

"This ode to the forest—an epic prose poem against a backdrop of wildly intimate imagery—lets us truly know it at last." —Margaret Roach, creator of A Way to Garden website and podcast

"Arresting photographs combine with musings about the web of life in deciduous forests in this coffee-table book. . . . A beautiful view of woodlands through the seasons." —Publishers Weekly

"Llewellyn is a master of revealing the intricacies of the small-scale elements of such big creatures, things such as the winged fruit of the maple or the male catkins of the red oak, spilling over their twigs like waterfalls." —The Washington Post

"Beautiful photographs accompanied with text that borders on poetry. . . . Get caught up in landscape photographs that are transportive and contemplative." —NYBG's Plant Talk

"Lovely, Dark, and Deep. . . . Leaf through this book and you'll be transported to a world of soaring branches, misty mountains and a treasury of living things that includes acorns, fungi, eagles, coyotes, snakes and millipedes." —BookPage 

"The latest masterpiece from the team of Robert Llewellyn and Joan Maloof. . . This is a presentation-type book that won't sit gathering dust on a table. It is one people will want to pick up to peruse and return to again and again." —Smith Mountain Laker

"With precise, stunning photographs and a distinctly literary narrative that tells the story of the forest ecosystem along the way, The Living Forest is an invitation to join in the eloquence of seeing. . . . Browsing through the book, one gets the sense that each image and anecdote is the snapshot of a moment of pure discovery. What consistently shows up in those moments, whether through Llewellyn's lens or Maloof's eloquent writing, is an all too obvious truth: Within this biosphere, all around us is an intelligence we don't fully understand, that is alive to the world and in a relationship to that world. And to us." —Sierra Magazine

"By immersing readers in the serene, dreamlike world of the forest ecosystem, The Living Forest is sure to make future strolls through the woods a much richer experience." —The American Gardener

"Attempting to present a complete portrait of an ecosystem is a challenge, but photographer Robert Llewellyn endeavours to achieve just that in his latest book, which takes us to all corners and heights of deciduous forests. From looking the diverse range of wildlife to different tree species, 300 vividly colourful photographs reveal the complex web of energy and matter that make up a woodland full of life." —Outdoor Photography Magazine

"The Living Forest is one of the most beautiful books I've ever experienced. The stunning photographs and the exquisite prose come together to capture the interest, intellect and heart of a reader." —The Oregonian

"If you have to go over the river and through the woods to get to grandmother's house this Christmas, having read this illustrated work will do nothing but enhance the journey." —The Columbian

"This book is a beautiful journey through ancient woods that make up only 1% of our eastern forests. . . . explains why they're different and why they matter." —Triangle Gardener

"This celebration of forests' many layers of beauty is a gift for the senses, intellect, and emotions." —David George Haskell, author of The Songs of Trees and The Forest Unseen (Pulitzer finalist), professor of biology at University of the South

"This ode to the forest—an epic prose poem against a backdrop of wildly intimate imagery—lets us truly know it at last." —Margaret Roach, creator of A Way to Garden website and podcast

"Arresting photographs combine with musings about the web of life in deciduous forests in this coffee-table book. . . . A beautiful view of woodlands through the seasons." —Publishers Weekly

"Llewellyn is a master of revealing the intricacies of the small-scale elements of such big creatures, things such as the winged fruit of the maple or the male catkins of the red oak, spilling over their twigs like waterfalls." —The Washington Post

"Beautiful photographs accompanied with text that borders on poetry. . . . Get caught up in landscape photographs that are transportive and contemplative." —NYBG's Plant Talk

"Lovely, Dark, and Deep. . . . Leaf through this book and you'll be transported to a world of soaring branches, misty mountains and a treasury of living things that includes acorns, fungi, eagles, coyotes, snakes and millipedes." —BookPage 

"The latest masterpiece from the team of Robert Llewellyn and Joan Maloof. . . This is a presentation-type book that won't sit gathering dust on a table. It is one people will want to pick up to peruse and return to again and again." —Smith Mountain Laker

"With precise, stunning photographs and a distinctly literary narrative that tells the story of the forest ecosystem along the way, The Living Forest is an invitation to join in the eloquence of seeing. . . . Browsing through the book, one gets the sense that each image and anecdote is the snapshot of a moment of pure discovery. What consistently shows up in those moments, whether through Llewellyn's lens or Maloof's eloquent writing, is an all too obvious truth: Within this biosphere, all around us is an intelligence we don't fully understand, that is alive to the world and in a relationship to that world. And to us." —Sierra Magazine

"By immersing readers in the serene, dreamlike world of the forest ecosystem, The Living Forest is sure to make future strolls through the woods a much richer experience." —The American Gardener

"Attempting to present a complete portrait of an ecosystem is a challenge, but photographer Robert Llewellyn endeavours to achieve just that in his latest book, which takes us to all corners and heights of deciduous forests. From looking the diverse range of wildlife to different tree species, 300 vividly colourful photographs reveal the complex web of energy and matter that make up a woodland full of life." —Outdoor Photography Magazine

"The Living Forest is one of the most beautiful books I've ever experienced. The stunning photographs and the exquisite prose come together to capture the interest, intellect and heart of a reader." —The Oregonian

"If you have to go over the river and through the woods to get to grandmother's house this Christmas, having read this illustrated work will do nothing but enhance the journey." —The Columbian

"This book is a beautiful journey through ancient woods that make up only 1% of our eastern forests. . . . explains why they're different and why they matter." —Triangle Gardener