Most Likely to Secede: What the Vermont Independence Movement Can Teach Us about Reclaiming Community and Creating a Human-Scale Vision for t (Paperback)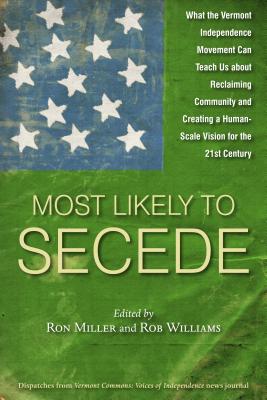 $19.95

Should Be On Our Shelves Now
Description
---
From the annals of Vermont Commons: Voices of Independence news journal comes a new collection of essays.
The 21st century United States is no longer a functioning republic, but an unreform'able Empire unresponsive to the needs and concerns of its own citizens. Most Likely To Secede features a collection of provocative and forward-thinking essays from 29 contributors to Vermont Commons: Voices of Independence news journal.
Written by cutting-edge citizens and entrepreneurs, the essays call for economic relocalization and political independence for Vermont, and, in some cases, nonviolent secession of the state (once its own 18th century republic) from the U.S. of Empire and the peaceful dissolution of the United States as a whole. Exploring well beyond the media-manufactured boundaries of Left and Right, Most Likely To Secede advocates for a 21st century world in which collective decisions about finance, fuel, food, and culture are removed from a centralized corporate imperial United States, and returned to regional and local control. As the only state to once exist as its own republic, Vermont is uniquely poised to lead a national conversation on 2st century decentralization, and Most Likely To Secede shows us the way.
About the Author
---
Rob Williams is the publisher of Vermont Commons: Voices of Independence. He is a Vermont-based professor, farmer, musician, historian and journalist who teaches face to face and online courses at a wide variety of colleges, plays pholk phunk music with the Phineas Gage Project (www.phineasgage.com), and raises grass-fed yaks in the Mad River Valley (www.vermontyak.com). Ron Miller spent nearly thirty years as an educational scholar and activist, known internationally as a founder of the holistic education movement. He authored or edited nine books, established two journals, co-founded an alternative school, and was on the faculty of the progressive Education program at Goddard College. His work is archived at www.pathsoflearning.net. In 2011 he retired to run an independent bookstore in Woodstock, Vermont. He has served on the Vermont Commons editorial board since 2007.