Northern Exposures: An Adventuring Career in Stories and Images (Hardcover)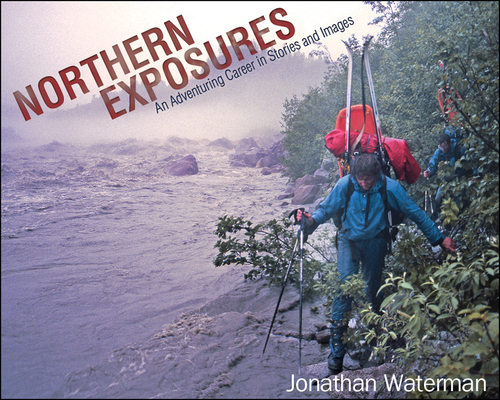 $45.00
Email or call for price
Description
---
"Waterman's profound respect for the northern lands burns on every page, and his photos and essays prove to us that there is still beauty in this world—beauty worth fighting for."—Robert Redford

North of the sixtieth parallel, the sun shines for less than six hours in the winter, and towering mountains are the only skyscrapers. Pristine waters serve caribou, moose, and bears in an unbroken landscape. At any given moment in this spectacular scenery, there's a chance that Jonathan Waterman is present, trekking across the land. A masterful adventurer, Waterman has spent decades exploring the farthest reaches of our beautiful spaces. The essays and photographs collected in Northern Exposures are a product of this passion for exploration and offer an unparalleled view into adventuring in the north and beyond.

Picking up after In the Shadow of Denali, his first book of essays, Northern Exposures collects twenty-three stories from Waterman's thirty-year career that show the evolution of the adventurer's career and work, from ducking avalanches near the Gulf of Alaska, to searching for the most pristine tundra on the continent, and from writing haiku on Denali in the depth of winter to decrying oil development in the Arctic National Wildlife Refuge. Ninety-six spectacular photographs taken by Waterman during his expeditions lend a broader context and allow readers to fully understand his heartfelt argument for protecting these places. Whether active, aspiring, or just armchair adventurers, readers will be inspired by Waterman's daring spirit.
About the Author
---
Jonathan Waterman is an award-winning author, photographer, and filmmaker whose books include The Colorado River: Flowing Through Conflict and Running Dry: A Journey from Source to Sea Down the Colorado River and whose films include Surviving Denali and ANWR Trek. 
Praise For…
---
"Waterman's profound respect for the northern lands burns on every page, and his photos and essays prove to us that there is still beauty in this world—beauty worth fighting for."
— Robert Redford

"Expeditions are brought to life with powerful prose and the author's gift for description, accompanied by loads of photographs that document not only the breathtaking scenery but the excitement of Waterman's particular travels." 
— Starred Review

"Northern Exposured is a spectacular look at the farthest reaches of our beautiful spaces."
— The Photo Review